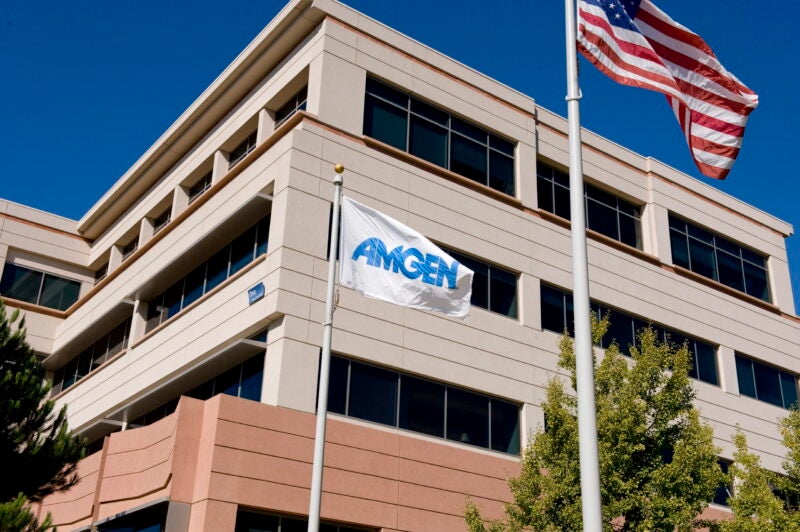 Amgen has reported a 1% decline in total revenues to $6.65bn in the third quarter (Q3) of 2022 as against $6.7bn in the year-ago quarter.
For the quarter, total product sales were recorded at $6.2bn, a 1% drop from $6.3bn in Q3 2021.
The drop in global product sales led to the decline in total revenue for the third quarter of this year, the company noted.
For products such as Lumakras/Lumykras (sotorasib), Repatha (evolocumab), Evenity (romosozumab-aqqg), Parsabiv (etelcalcetide) and Vectibix (panitumumab), the sale volumes rose in double-digits.
The GAAP earnings per share (EPS) rose by 20% to $3.98 in the quarter from $3.31 in Q3 last year.
The growth in GAAP EPS was driven by a decline in operating expenses due to a $0.4bn licensing-linked upfront payment to Kyowa Kirin in Q3 2021 and reduced weighted-average shares outstanding in Q3 this year.
Amgen's GAAP operating income in Q3 2022 stood at $2.7bn, indicating a growth of 12% from $2.4bn in the previous year's quarter.
A 15% surge to $4.7 in non-GAAP EPS was recorded in the quarter in comparison with $4.08 in Q2 2021.
In the third quarter of 2022, non-GAAP operating income grew by 7% to $3.3bn from $3.1bn in Q3 2021.
Amgen chairman and CEO Robert Bradway said: "Our medicines generated 8% volume growth in the quarter globally, with 11 products achieving record quarterly sales.
"This growth reflects the strong underlying demand for our medicines and the value they bring to patients."
The company revised the guidance for full year 2022 and anticipates total revenues ranging between $26bn and $26.3bn.
The GAAP EPS guidance was updated to the range of $11.46-$12.17 while Amgen expects non-GAAP EPS of $17.25-$17.85.
In August, the company agreed to acquire ChemoCentryx in a deal worth nearly $3.7bn.