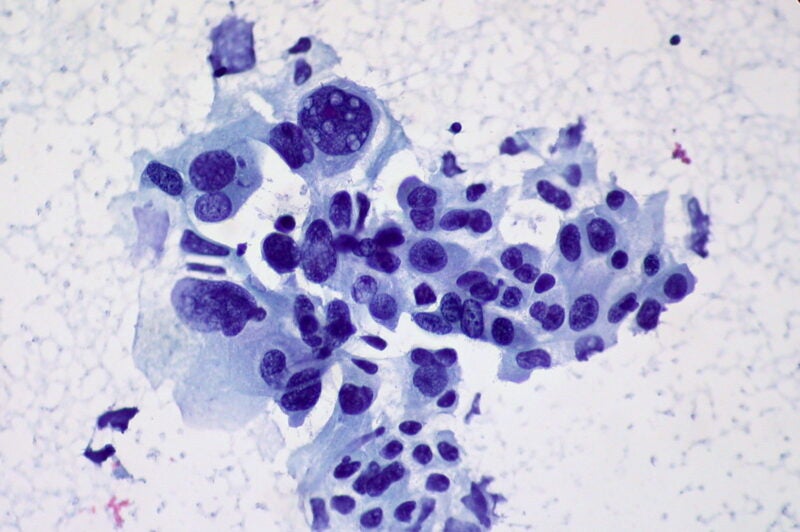 Atara Biotherapeutics has reported that Bayer informed intent to conclude the exclusive global licencing agreement for mesothelin-directed CAR T-cell therapies.
The companies entered the deal in December 2020 for developing CAR-T cell therapies to treat high mesothelin-expressing tumours such as malignant pleural mesothelioma and non-small-cell lung cancer.
The partnership comprised financing and development of ATA3271 and ATA2271 for high mesothelin-expressing tumours including malignant pleural mesothelioma and non-small-cell lung cancer.
ATA3271 is an armoured allogeneic T-cell immunotherapy while ATA2271 is an autologous version.
These candidates incorporate the inclusion of armouring of Atara in the form of a PD-1 DNR construct to bypass checkpoint inhibition and a 1XX costimulatory domain on the CAR to boost CAR T-cell expansion and functional persistence.
ATA3271 uses the EBV T-cell platform of the company and is presently being analysed in Investigational New Drug (IND)-enabling clinical trials.
The rights and licences granted by Atara to Bayer under the partnership will be returned to the former upon deal termination in September this year.
With this, Atara will gain complete rights to advance the clinical development and marketing of its programmes globally in the future.
The company will continue to back the Phase I clinical trial of ATA2271 underway, being carried out by Memorial Sloan Kettering Cancer Center (MSK).
MSK has voluntarily halted the enrolment of new participants in the trial temporarily.
Atara and MSK anticipate offering data update from this trial in the second half of this year.
Furthermore, Atara will continue to oversee ATA3271's IND-enabling trials and process development.
Atara Biotherapeutics Global Research & Development head Jakob Dupont said: "We acknowledge Bayer's decision to end our collaboration following Bayer's strategic review and asset-level prioritisation of its pipeline, including cell and gene therapy.
"Based on the clinical and pre-clinical data generated to date, we remain confident in the potential of ATA2271 and ATA3271 to address patient need in solid tumours and are re-assessing our strategy on how best to generate value from the programmes moving forward."
In August last year, Bayer announced plans to acquire Vividion Therapeutics for up to $2bn to boost its drug discovery capabilities and expand into new modalities.
Cell & Gene Therapy coverage on Pharmaceutical Technology is supported by Cytiva.
Editorial content is independently produced and follows the highest standards of journalistic integrity. Topic sponsors are not involved in the creation of editorial content.