Indian firm Bharat Biotech has reported interim results from the Phase I clinical trial that showed its Covid-19 vaccine, COVAXIN (BBV152), induced a robust immune response with no serious adverse effects.
Free Case Study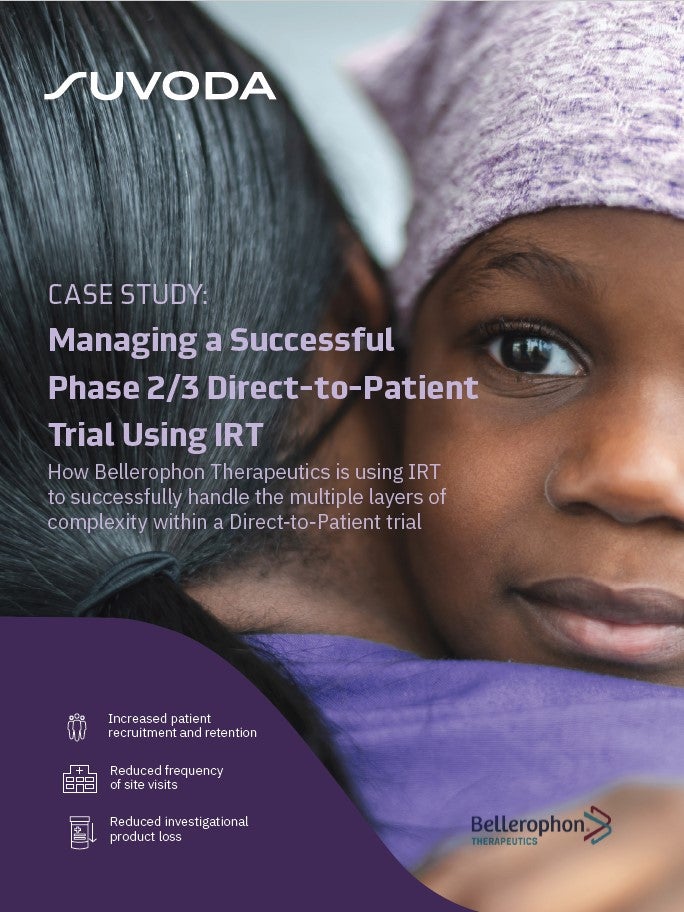 Direct-to-Patient Trials: How IRT Plays an Important Role in Bellerophon's Direct-to-Patient Trials
As the industry strengthens its focus on patient centricity, Direct-to-Patient clinical trials have emerged as a popular trial design that have the potential to increase patient recruitment and retention. IRT plays a crucial role in the success of a Direct-to-Patient trial. Because drug supplies are being managed and shipped from distribution facilities directly to patients' homes, a sponsor must have a high-quality system in place to accurately track the chain of custody, ensure patient-blinding and handle other logistical challenges. What You Will Learn Benefits and challenges associated with the Direct-to-Patient model Bellerophon's top considerations when implementing this trial design How IRT can equip study teams to successfully track chain of custody, ensure patient blinding, and handle logistical challenges
by Suvoda
Developed in partnership with the Indian Council of Medical Research (ICMR) and National Institute of Virology (NIV), COVAXIN is a whole-virion, inactivated SARS-CoV-2 vaccine with two adjuvants – Algel (alum) and Algel-IMDG.
The vaccine, stored between 2°C and 8°C, is ideal for all national immunisation programme cold chain needs, Bharat Biotech noted.
Bharat Biotech is developing and manufacturing India's indigenous Covid-19 vaccine at its Bio-Safety Level 3 (BSL-3) biocontainment facility.
The placebo-controlled, double-blinded clinical trial to evaluate the safety and immunogenicity of the vaccine enrolled approximately 375 participants.
Of these, 300 subjects received the vaccine doses while 75 subjects received the placebo.
Participants received two intramuscular doses of vaccine on day 0 (baseline) and day 14.
The trial's primary outcomes were reactogenicity and safety, while secondary outcomes were immunogenicity based on the anti-IgG S1 response and wild-type virus neutralisation.
Interim data showed that on day 28, all participants who received the vaccine had significantly elevated Spike binding IgG antibodies and neutralising antibody titers.
The vaccine-induced antibody responses and could potentially neutralise both homologous (vaccine virus strain) and heterologous (divergent) SARS-CoV-2 strains.
Furthermore, researchers noted a Th1 biased T-cell response, with no serious (grade 3-4) adverse events reported.
Currently, the Phase II trials are in analysis.
In October, the Indian Central Drugs Standard Control Organisation (CDSCO) expert panel recommended granting approval to Bharat Biotech for conducting Phase III clinical trials of Covaxin.
In November, Bharat Biotech initiated Phase III trials of the vaccine, which will enrol 26,000 subjects across the country.
Free Case Study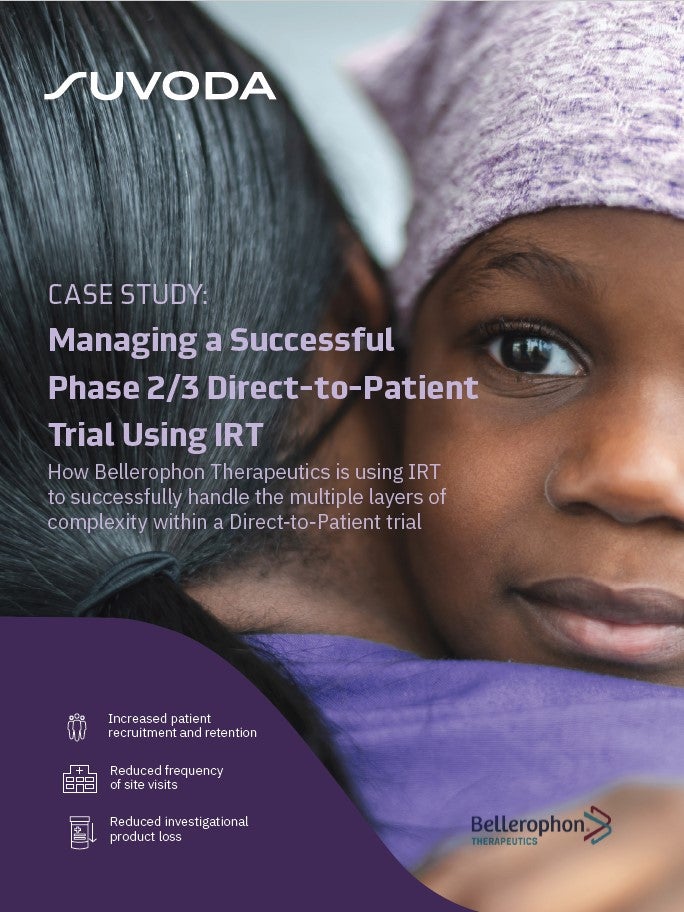 Direct-to-Patient Trials: How IRT Plays an Important Role in Bellerophon's Direct-to-Patient Trials
As the industry strengthens its focus on patient centricity, Direct-to-Patient clinical trials have emerged as a popular trial design that have the potential to increase patient recruitment and retention. IRT plays a crucial role in the success of a Direct-to-Patient trial. Because drug supplies are being managed and shipped from distribution facilities directly to patients' homes, a sponsor must have a high-quality system in place to accurately track the chain of custody, ensure patient-blinding and handle other logistical challenges. What You Will Learn Benefits and challenges associated with the Direct-to-Patient model Bellerophon's top considerations when implementing this trial design How IRT can equip study teams to successfully track chain of custody, ensure patient blinding, and handle logistical challenges
by Suvoda