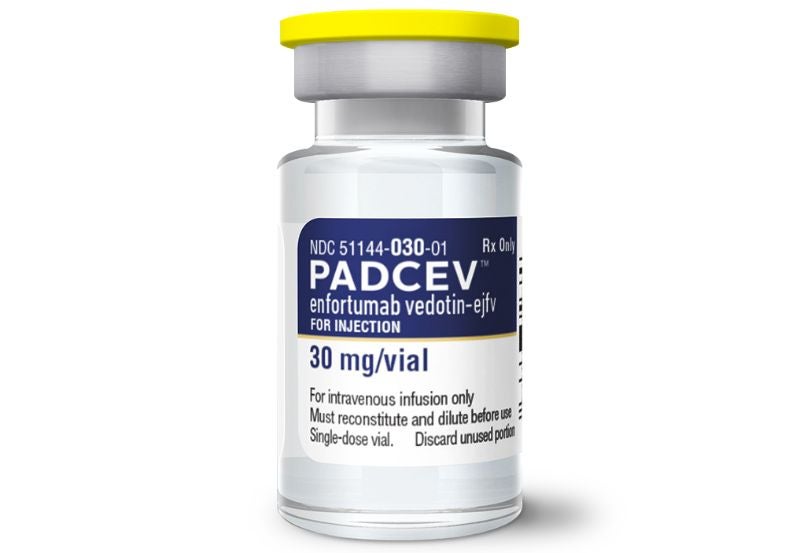 The US Food and Drug Administration (FDA) has granted accelerated approval to Astellas Pharma and Seattle Genetics' Padcev drug to treat locally advanced or metastatic urothelial cancer.
The indication is for adult patients who previously had a PD-1 / L1 inhibitor and platinum-containing chemotherapy before or following surgery or in a locally advanced or metastatic setting.
Padcev is an antibody-drug conjugate (ADC) that targets the Nectin-4 protein highly expressed in bladder cancer, the sixth most common type of cancer in the US.
Astellas and Seattle Genetics are jointly developing the drug.
FDA Oncology Center of Excellence director Richard Pazdur said: "Antibody-drug conjugates are strategic tools in the targeted treatment of cancer. These conjugates combine the ability of monoclonal antibodies to target specific receptors on cancer cells and then deliver a drug to the cancer cell.
"Padcev is an antibody-drug conjugate that targets Nectin-4, a cell surface protein expressed on bladder cancer cells and a cell-killing agent, monomethyl auristantin E."
FDA approval comes after a review of findings gathered from the single-arm Phase II EV-201 clinical trial conducted in 125 patients.
A blinded independent central review showed a 44% objective response rate (ORR), the primary endpoint of the study.
Furthermore, the drug demonstrated a complete response in 12% of patients and a partial response in 32% of participants. Padcev led to 7.6 months of median duration of response (DoR), a secondary endpoint.
Common severe adverse reactions reported were urinary tract infection, cellulitis, diarrhoea and febrile neutropenia. Patients also experienced sepsis, rash, dyspnea and acute kidney injury.
During the study, peripheral neuropathy was the most common adverse reaction that led to discontinuation.
Continued FDA approval of Padcev may depend on confirmatory trials. The companies expect that an ongoing Phase III confirmatory trial will support global registrations.