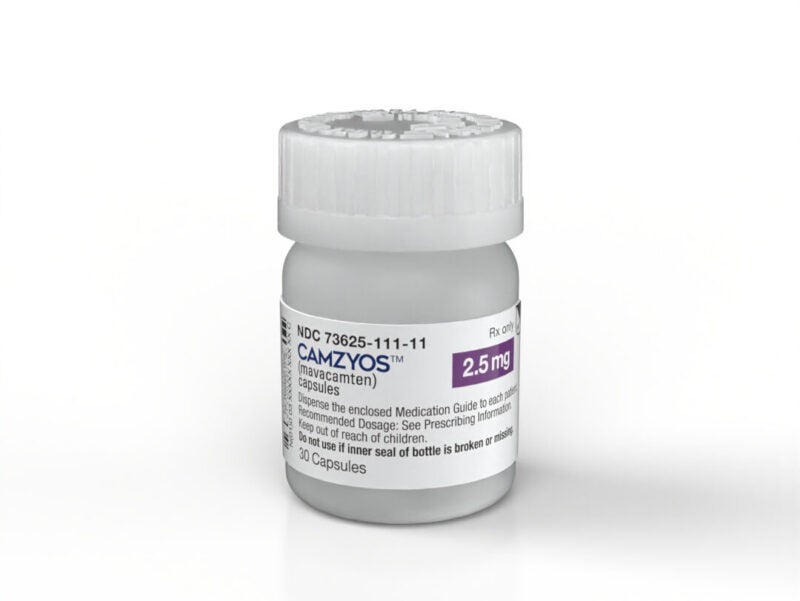 Bristol Myers Squibb (BMS) has received US Food and Drug Administration (FDA) approval for Camzyos (mavacamten, 2.5mg, 5mg, 10mg, 15mg capsules) to treat adult patients with symptomatic New York Heart Association (NYHA) Class II-III obstructive hypertrophic cardiomyopathy (HCM).
The treatment is intended at enhancing functional capacity and symptoms in such patients.
Camzyos is an allosteric and reversible inhibitor of cardiac myosin.
Hindering myosin using Camzyos lowers dynamic left ventricular outflow tract (LVOT) obstruction and enhances cardiac filling pressures in patients with HCM.
The company noted that Camzyos is the first allosteric and reversible inhibitor selective for cardiac myosin that acts on the obstructive HCM's underlying pathophysiology, to obtain FDA approval.
The full US Prescribing Information for the therapy comprises a boxed warning for heart failure risk.
This FDA approval is based on findings from the double-blind, randomised, placebo-controlled, parallel-group Phase III EXPLORER-HCM clinical trial which enrolled 251 adults with symptomatic, obstructive HCM.
The trial's composite primary endpoint was the proportion of subjects attaining either improvement of mixed venous oxygen tension (pVO2) by ≥1.5 mL/kg/min plus improvement in NYHA class by a minimum of one or improvement of pVO2 by ≥3.0 mL/kg/min without worsening in NYHA class at week 30.
Trial data showed that 37% of subjects who received Camzyos met the composite primary endpoint versus 17% in the placebo arm.
Furthermore, subjects in the Camzyos arm had enhanced improvement across all secondary endpoints versus placebo at week 30.
Bristol Myers Squibb Global Drug Development executive vice-president and chief medical officer Samit Hirawat said: "This approval builds on decades of cardiovascular leadership and reflects our steadfast commitment to people impacted by cardiovascular disease.
"We are proud to bring this first-of-its-kind medicine to patients, which may help to address an unmet need in the US in the symptomatic NYHA class II-III obstructive HCM treatment landscape."
In March this year, the US FDA approved BMS' Opdivo (nivolumab) plus platinum-doublet chemotherapy to treat adults with resectable non-small cell lung cancer in the neoadjuvant setting.