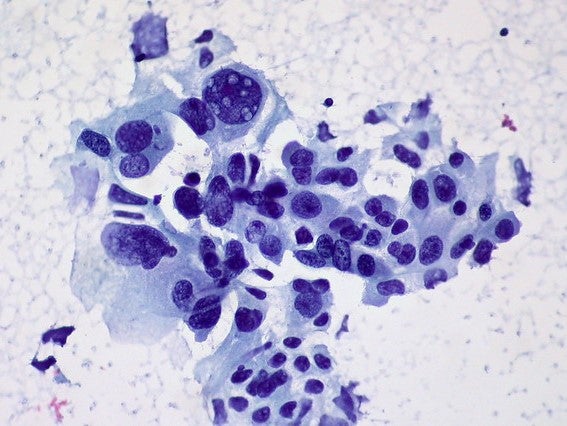 Bristol-Myers Squibb (BMS) has announced that its immunotherapy Opvido (nivolumab) plus chemotherapy failed to meet its primary endpoint of overall survival (OS) in the Phase III CheckMate-227 trial of patients with first-line non-squamous non-small cell lung cancer (NSCLC).
Opdivo is a PD-1 immune checkpoint inhibitor that harnesses the body's immune system to fight cancer. It has been approved for a range of different oncology indications.
The median OS for patients treated with Opdivo plus chemotherapy was 18.83 months, compared to 15.57 months for chemotherapy. The landmark one year OS was 67.3% for the drug group, compared to 59.2% for the chemotherapy group.
The company also did an exploratory analysis of patients with first line squamous NSCLC, the median OS was 18.27 months for Opdivo plus chemotherapy, compared to 11.96 months for chemotherapy alone. No new safety concerns were observed.
BMS head of oncology development Fouad Namouni said: "While this is not the outcome we had hoped for, the Opdivo plus chemotherapy one-year landmark overall survival in the non-squamous population was consistent with the experimental arms in previously-reported trials of IO/chemotherapy combination regimens.
"We thank the patients and investigators who participated in this trial."
However, BMS also announced that Opdivo combined with Yervoy (ipilimumab) did meet its co-primary endpoint of OS in another part of the CheckMate-227 study, which focused on first-line NSCLC patients whose tumours do not express programmed cell death ligand one (PD-L1).
The other co-primary endpoint was progression-free survival, but no data was provided for this endpoint in this update.
Namouni commented: "CheckMate-227 is the first Phase III trial to demonstrate that patients with lung cancer can achieve superior overall survival with a dual immunotherapy combination versus chemotherapy.
"Lung cancer is the third tumour type where the Opdivo plus Yervoy regimen has shown a significant overall survival benefit in a randomised Phase III trial, reinforcing the importance of Yervoy in the treatment of cancer."
This is encouraging as BMS withdrew a supplemental biological license application it submitted to the US Food and Drug Administration (FDA) for the Opdivo-Yervoy combination for NSCLC in January this year.
Full results from both arms of the CheckMate-227 study will be published at an upcoming medical meeting.