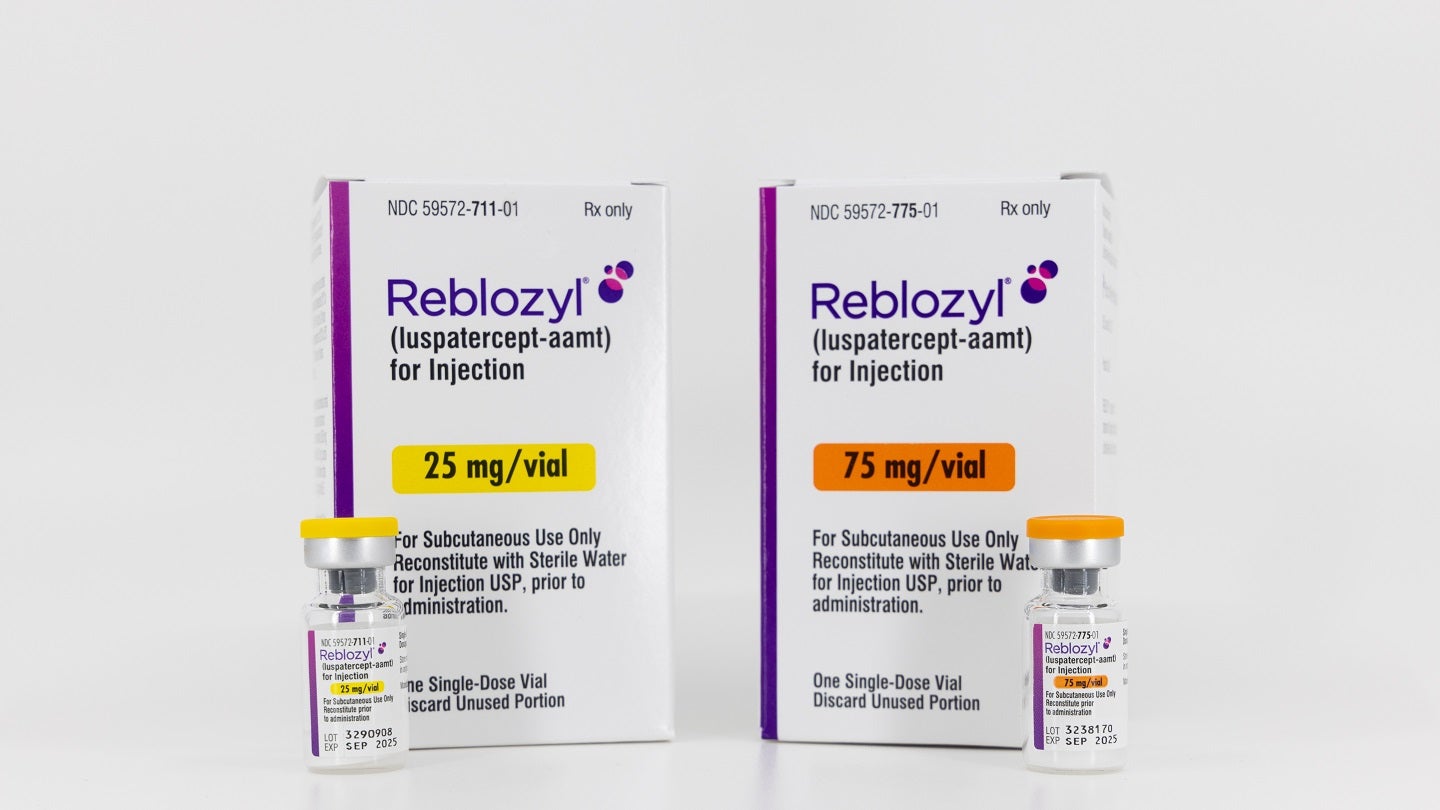 Bristol Myers Squibb has received US Food and Drug Administration (FDA) approval for Reblozyl (luspatercept-aamt) as a first-line treatment for anaemia.
The expanded indication will treat anaemic patients who are erythropoiesis-stimulating agent (ESA)-naive with very low to intermediate-risk myelodysplastic syndromes (MDS) and who require regular red blood cell transfusions.
The indication is based on interim data from the pivotal, open-label, randomised Phase III COMMANDS trial that compared the efficacy and safety of Reblozyl against epoetin alfa.
147 patients in the trial received Reblozyl and 154 were treated with epoetin alfa, with median treatment durations of 41.6 and 27 weeks respectively.
The primary endpoint of RBC transfusion independence of at least 12 weeks duration with a concurrent mean Hb increase of at least 1.5g/dL within the first 24 weeks was achieved in 58.5% of patients receiving Reblozyl and 31.2% of patients receiving epoetin alfa.
Nausea, dyspnea, peripheral oedema, hypertension, diarrhoea and fatigue were some of the most common adverse reactions observed.
Bristol Myers Squibb US haematology and cell therapy general manager and senior vice-president Wendy Short-Bartie stated: "Today's expanded approval of Reblozyl marks an important milestone in our commitment to MDS patients with anaemia by providing a durable and more effective treatment option, with more convenient and less frequent administration.
"We remain dedicated to addressing hard-to-treat diseases with a significant burden to patients and look forward to bringing this important option earlier in the treatment process."
Since November 2021, Reblozyl has been developed and marketed through a worldwide partnership with Merck.