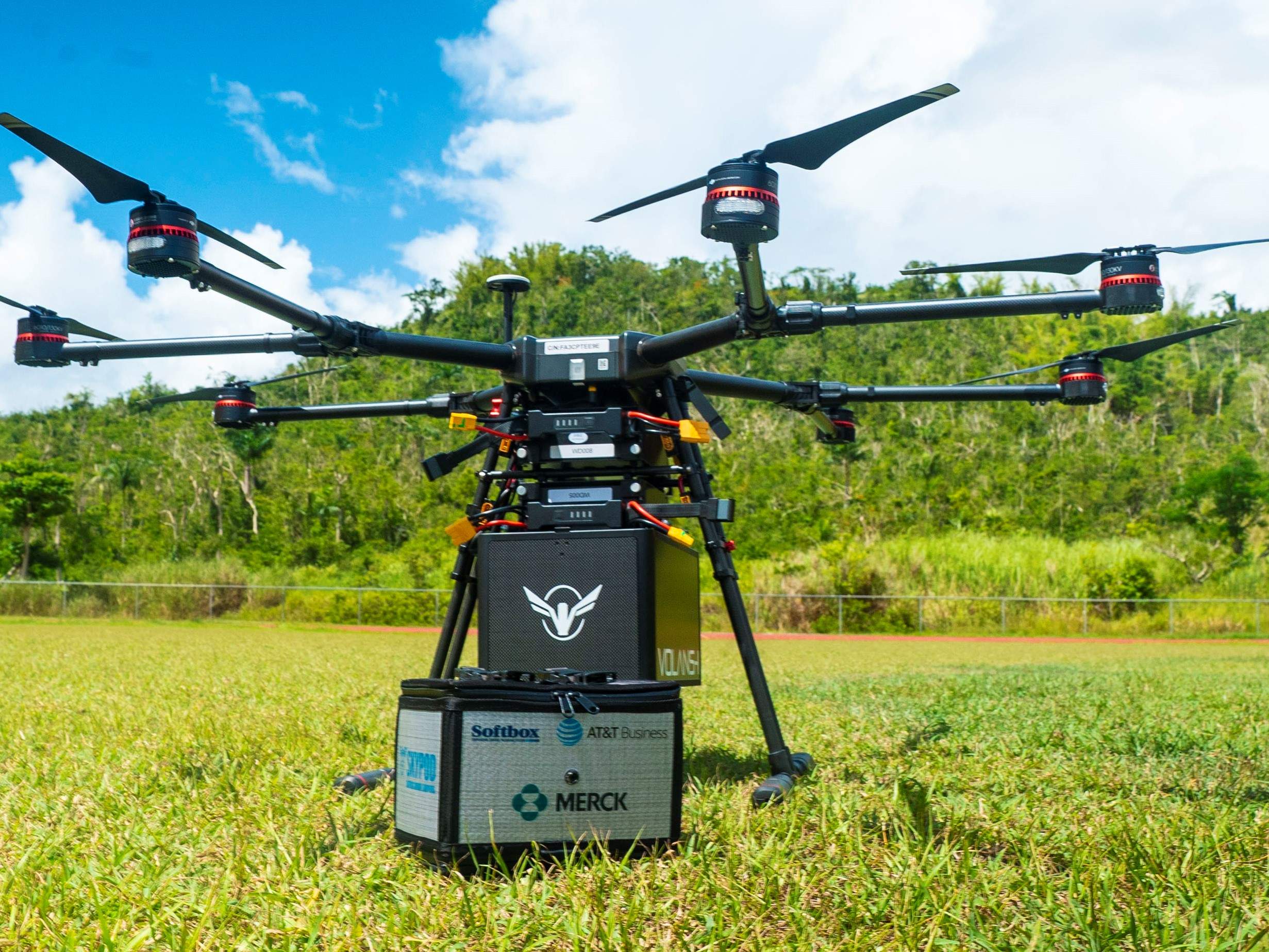 US-founded telecommunications company AT&T and UK-based pharmaceutical packaging experts Softbox have collaborated on a proof of concept study to use drones to transport medicines, which are temperature sensitive, to difficult-to-reach locations, including areas hit by natural disasters.
To accommodate the temperature-sensitive drugs, Softbox adapted a reusable, robust, insulated packaging system called Skypod from a prototype developed by the AT&T Foundry, a network of start-ups and technology providers.
Image: Softbox's Skypod to transport the temperature-sensitive medicines. Credit: AT&T.
The Skypod is tracked and the temperature of the pharmaceutical products is monitored using AT&T's Internet of Things (IoT) technology. The tracking system has been improved with every stage of the testing so far.
Drones have been used in other emergency situations, such as to quickly deliver defibrillators to doctors dealing with cardiac arrests. The technology is appropriate to transport products into disaster zones because they can safely fly over disaster areas, such as collapsed buildings or power lines.
Softbox technical director Richard Wood said: "We're proud to be working with AT&T in this dynamic, industry-first trial. The connected Skypod could be rapidly deployed globally in times of humanitarian disaster relief."
AT&T regional vice-president of healthcare solutions Ted Reynes said: "We spend a lot of time transporting information and a lot of times people don't see the real benefit. It is exciting because we are able to advance healthcare using technology that AT&T has developed."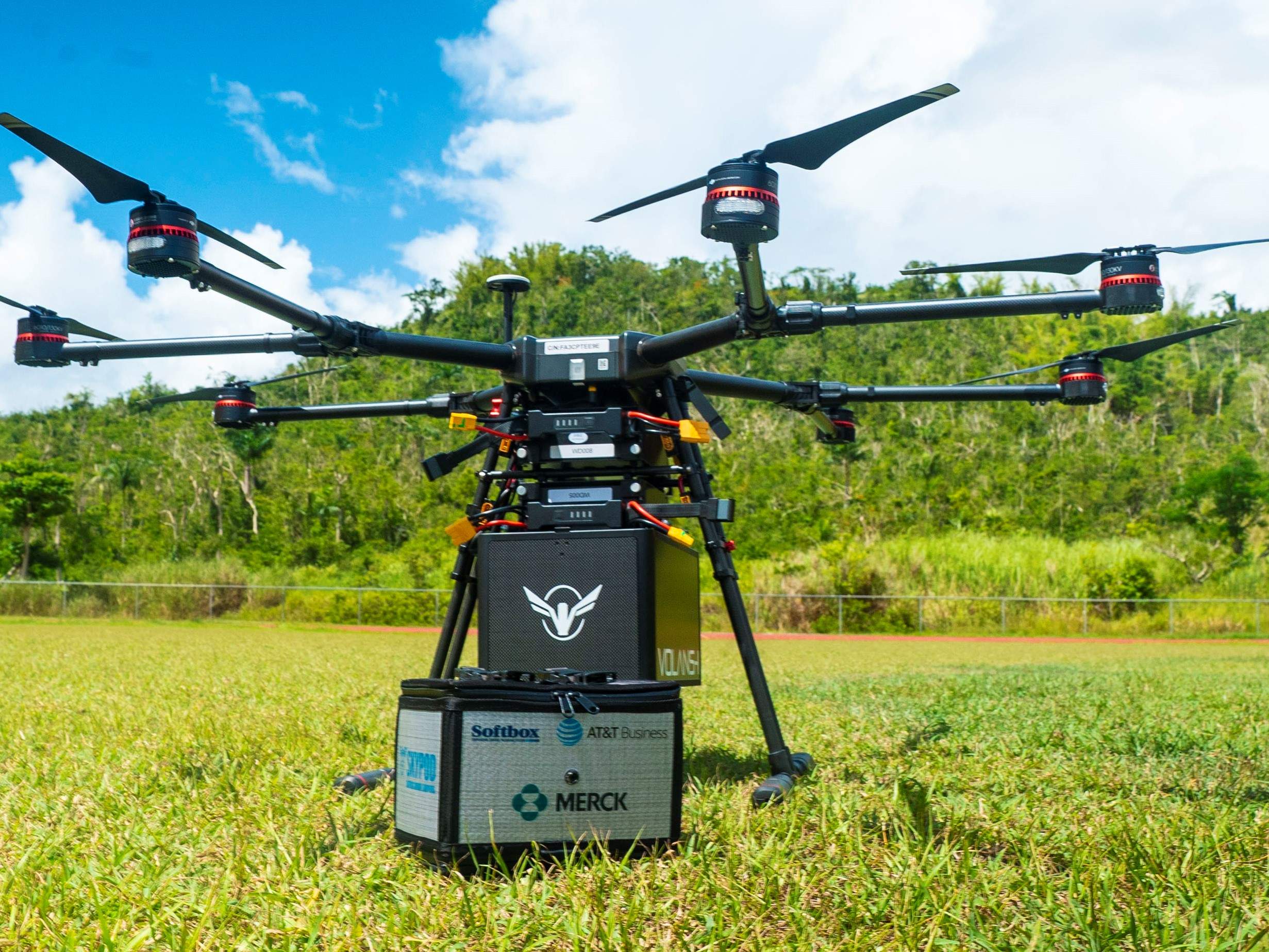 Image: Softbox and AT&T's Skypod and drone. Credit: AT&T.
Puerto Rico: testing the system in a disaster zone
The proof of concept test using drones to transport medicines were conducted in Puerto Rico in collaboration with global pharmaceutical company, Merck, which is one of Softbox's customers.
Puerto Rico, an island in the Caribbean that is a sovereign part of the US, was devastated by the two hurricanes that hit the region last September.
The first, Hurricane Irma, the most powerful Atlantic hurricane on record, left more than one million Puerto Ricans without power. The second, Hurricane Maria, left the entire island without power and roughly 44% of residents without access to clean drinking water. Infrastructure was also severely damaged by Hurricane Maria, including hospitals, which put increased pressure on the functioning medical facilities, and there were many shortages of products, including food and medicines.
Following a report by George Washington University, which was commissioned by the Governor of Puerto Rico, the death toll has recently been revised to 2,975, nearly 50 times higher than the previous estimate of 64.
In response to the devastation on the island, AT&T deployed a helicopter called the Flying CoW (cell on wings) to help connect residents to mobile services while working on restoring the network permanently.
Image: AT&T's Flying CoW deployed in Puerto Rico. Credit: AT&T.
The use of the Skypod and drones to transport medicines has been developed with the upcoming 2018 hurricane season in mind.
Merck corporate responsibility executive director Brenda Colatrella said: "Merck is pleased to collaborate on this innovative new model for delivering medicines to patients in areas affected by natural disasters.
"We're proud of our long history of expanding access to our medicines and vaccines and collaborating to provide humanitarian assistance. The drone test flights give us hope that we will be able to provide a reliable supply of our medicines for disaster."
AT&T Region President for Europe, the Middle East and Africa, John Vladimir Slamecka said: "With the 2018 hurricane season upon us, we are thinking about the devastation caused by Hurricane Maria last year. This trial is a fantastic example of IoT for Good, showcasing that it's possible for connected medical drones to deliver vital medicines to people in times of disaster."