The European Commission (EC) has granted conditional marketing authorisation (CMA) for BioMarin Pharmaceutical's gene therapy, Roctavian (valoctocogene roxaparvovec), to treat adults with severe haemophilia A (congenital Factor VIII deficiency).
The treatment is indicated for patients with no history of Factor VIII inhibitors and any detectable antibodies to adeno-associated virus serotype 5 (AAV5).
The approval is based on comprehensive data from the clinical development programme of Roctavian, including two-year findings from the international Phase III GENEr8-1 clinical trial.
In the GENEr8-1 trial, the gene therapy showed to offer long-lasting bleed control, including a decline in the mean annualised bleeding rate (ABR) and the mean annualised Factor VIII infusion rate.
The full data also comprised five- and four-year follow-up findings from the 6e13vg/kg and 4e13vg/kg dose cohorts, respectively, in the Phase I/II dose escalation trial underway. 
Administered as a one-time infusion, Roctavian delivers a functional gene that can facilitate the body in producing Factor VIII on its own without requiring sustained haemophilia prophylaxis.
BioMarin chairman and CEO Jean-Jacques Bienaimé said: "Roctavian approval in Europe is a historic milestone in medicine and is built upon almost four decades of scientific discovery, innovation and perseverance.
"We thank the European Commission for recognising Roctavian's value as the first gene therapy for haemophilia A, a feat that we believe will transform how healthcare professionals and the patient community think about caring for bleeding disorders."
The recommendation of the European Medicines Agency (EMA) for Roctavian to maintain orphan drug designation permitting a ten-year market exclusivity window was endorsed by the EC.
The company plans to resubmit a Biologics License Application (BLA) for Roctavian by the end of next month.
In June, Japan's Ministry of Health, Labor and Welfare (MHLW) granted approval for the registration of the company's Voxzogo (vosoritide) for injection to treat achondroplasia in children whose growth plates are not closed.
Cell & Gene Therapy coverage on Pharmaceutical Technology is supported by Cytiva.
Editorial content is independently produced and follows the highest standards of journalistic integrity. Topic sponsors are not involved in the creation of editorial content.
Free Whitepaper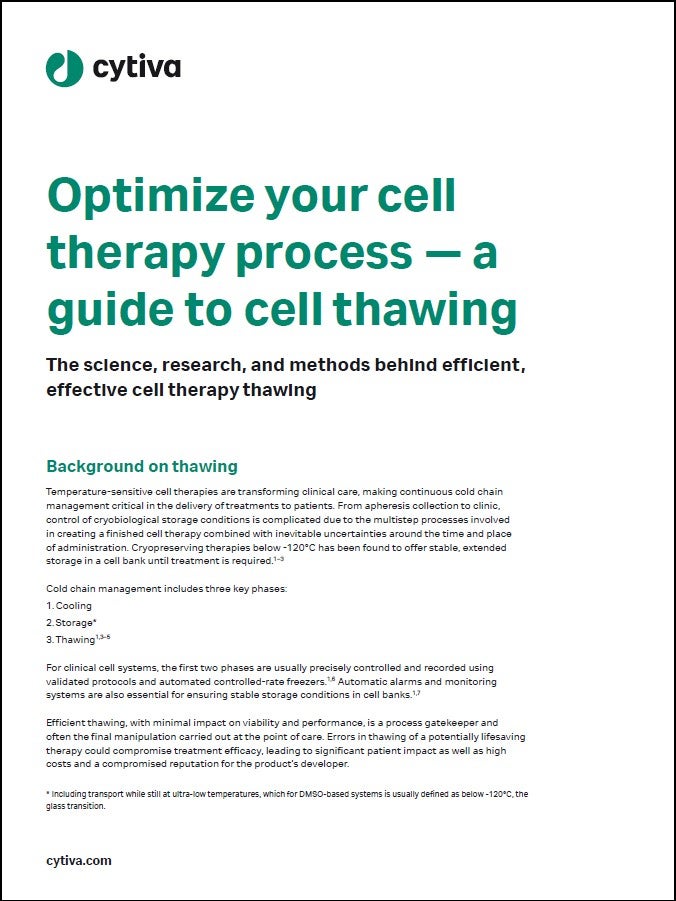 Optimise your cell therapy process: a guide to cell thawing
Typically carried out at the point of care, errors in cell therapy thawing could compromise treatment efficacy, leading to significant patient impact as well as high costs and a compromised reputation for the product's developer. This guide addresses how cell thawing has historically developed into the new techniques used today, along with the physical and biological implications of key metrics and components such as warming rate and ice structure. Also included are reviews of key studies from scientific literature and a consideration of the interactions between cooling and warming rates, as applicable to cell and gene therapies.
by Cytiva Thematic
By clicking the Download Free Whitepaper button, you accept the terms and conditions and acknowledge that your data will be used as described in the Cytiva Thematic privacy policy By downloading this Whitepaper, you acknowledge that we may share your information with our white paper partners/sponsors who may contact you directly with information on their products and services.

Visit our privacy policy for more information about our services, how we may use, process and share your personal data, including information on your rights in respect of your personal data and how you can unsubscribe from future marketing communications. Our services are intended for corporate subscribers and you warrant that the email address submitted is your corporate email address.