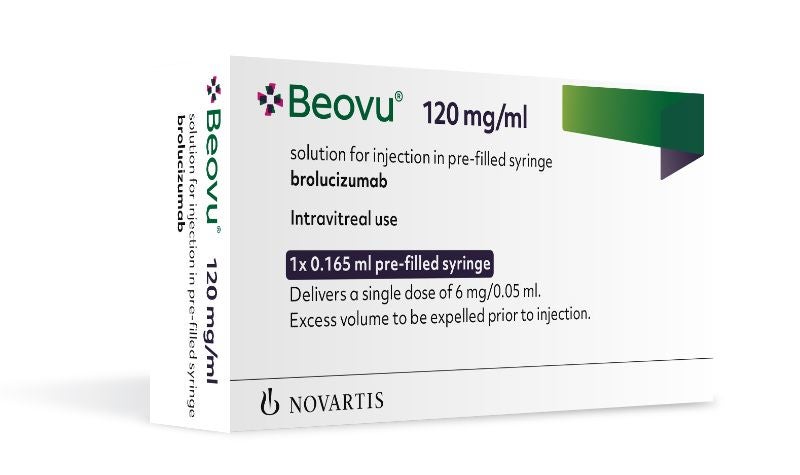 The European Commission (EC) has approved Novartis' Beovu (brolucizumab) injection to treat wet age-related macular degeneration (AMD).
Wet AMD is a degenerative eye disease that develops due to excess vascular endothelial growth factor (VEGF) protein, which promotes the growth of abnormal blood vessels below the macula area of the retina.
Beovu is a humanised single-chain antibody fragment (scFv) with high affinity to all VEGF-A isoforms. It is said to be the first anti-VEGF drug approved by the EC that enables three-month dosing intervals immediately following the loading phase.
Novartis Pharmaceuticals president Marie-France Tschudin said: "Currently, wet AMD patients, who are often older, can face significant challenges in managing their disease.
"We believe that Beovu, and its ability to resolve fluid, brings great therapeutic value that will help physicians optimise treatments for patients based on disease activity."
The EC approval comes after the review of data from the Phase III HAWK and HARRIER clinical trials, where the drug met the primary endpoint with non-inferior gains in best-corrected visual acuity (BCVA), compared to aflibercept at year one.
Data showed that the vision gains were maintained at year two, demonstrating better outcomes on fluid-related secondary endpoints at week 16 and year one.
The company notes that more than 50% of trial participants were treated on the three-month dosing period at year one, while the remaining were on a two-month interval.
Beovu obtained the US Food and Drug Administration (FDA) approval to treat wet AMD in October. FDA approval also came from HAWK and HARRIER results.
Last month, the drug secured approvals from the Swiss Agency for Therapeutic Products and Australian Therapeutic Goods Administration for the treatment of wet AMD.