The European Commission (EC) has granted marketing authorisation for Gilead Sciences subsidiary Kite's CAR T-cell therapy Tecartus (brexucabtagene autoleucel) to treat relapsed or refractory (r/r) B-cell precursor acute lymphoblastic leukaemia (ALL).
The treatment is indicated for usage in adults aged 26 years and older.
The approval is based on findings from the global, single-arm, multicentre, registrational, open-label Phase I/II ZUMA-3 clinical trial of Tecartus to treat r/r ALL.
It enrolled adult ALL patients aged 18 years or above whose disease is refractory to or relapsed after standard systemic therapy or hematopoietic stem cell transplantation.
According to the trial findings, 71% of the evaluable subjects attained a complete remission (CR) or CR with incomplete haematological recovery (CRi) with 26.8 months of median follow-up.
The median overall survival was found to be 25.4 months and 47 months for all patients and responders, respectively.
In efficacy-evaluable subjects, the median duration of remission (DOR) was 18.6 months.
Among subjects who received the target dose of Tecartus, safety data was in line with its known safety profile.
Additionally, 25% and 32% of the subjects had Grade 3 or higher cytokine release syndrome and neurologic adverse reactions, respectively, and were found to be well managed.
The latest approval became the fourth indication for Kite's two cell therapies in Europe.
Kite CEO Christi Shaw said: "This approval makes Tecartus the first and only CAR T-cell therapy indicated for this population of patients, addressing a significant unmet medical need.
"This is also the fourth indication in Europe for which a Kite cell therapy is approved, clearly demonstrating the benefits they offer to patients, especially those with limited treatment options."
An aggressive blood cancer form, ALL arises when abnormal white blood cells build up in the bone marrow until no room is left for the formation of blood cells.
In June, the EC granted marketing authorisation for Kite's CAR T-cell therapy, Yescarta (axicabtagene ciloleucel), for r/r follicular lymphoma.
Cell & Gene Therapy coverage on Pharmaceutical Technology is supported by Cytiva.
Editorial content is independently produced and follows the highest standards of journalistic integrity. Topic sponsors are not involved in the creation of editorial content.
Free Whitepaper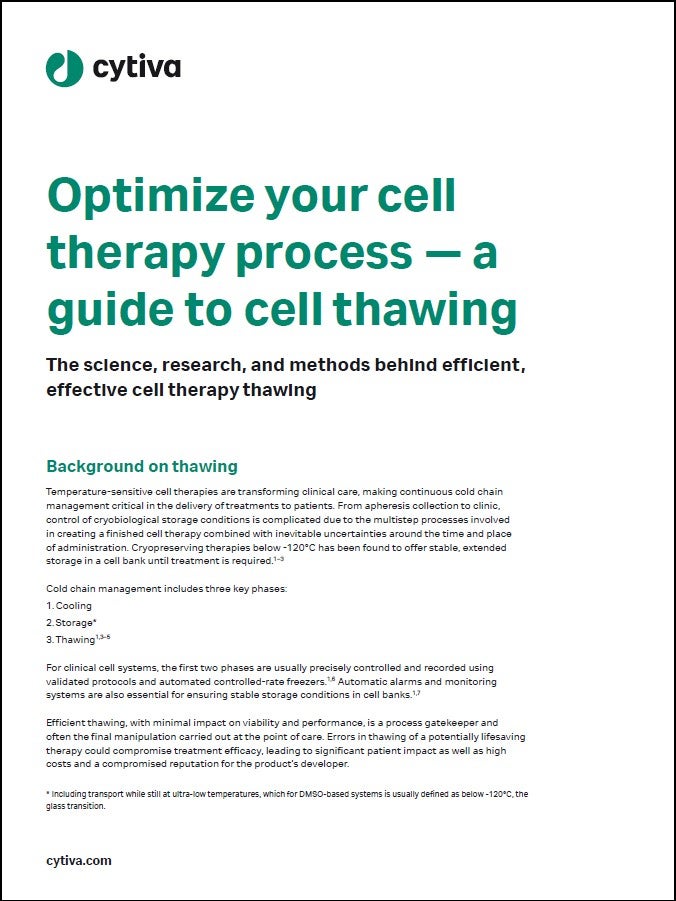 Optimise your cell therapy process: a guide to cell thawing
Typically carried out at the point of care, errors in cell therapy thawing could compromise treatment efficacy, leading to significant patient impact as well as high costs and a compromised reputation for the product's developer. This guide addresses how cell thawing has historically developed into the new techniques used today, along with the physical and biological implications of key metrics and components such as warming rate and ice structure. Also included are reviews of key studies from scientific literature and a consideration of the interactions between cooling and warming rates, as applicable to cell and gene therapies.
by Cytiva Thematic
By clicking the Download Free Whitepaper button, you accept the terms and conditions and acknowledge that your data will be used as described in the Cytiva Thematic privacy policy By downloading this Whitepaper, you acknowledge that we may share your information with our white paper partners/sponsors who may contact you directly with information on their products and services.

Visit our privacy policy for more information about our services, how we may use, process and share your personal data, including information on your rights in respect of your personal data and how you can unsubscribe from future marketing communications. Our services are intended for corporate subscribers and you warrant that the email address submitted is your corporate email address.