Teva Pharmaceutical and Regeneron Pharmaceuticals have reported positive top-line data from a phase III clinical trial of fasinumab to treat chronic pain in patients with osteoarthritis (OA) of the knee or hip.
Free Case Study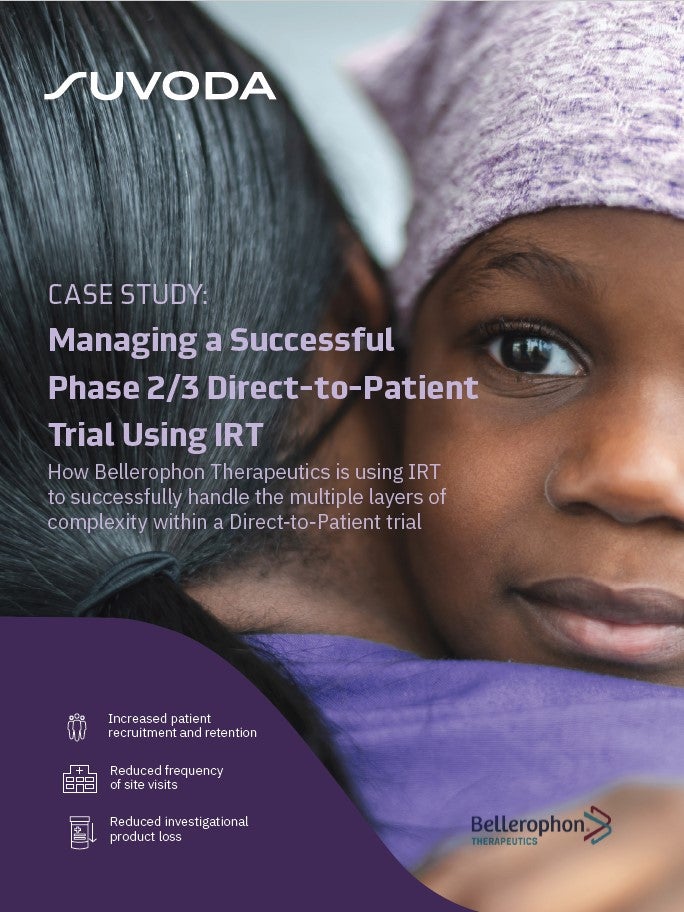 Direct-to-Patient Trials: How IRT Plays an Important Role in Bellerophon's Direct-to-Patient Trials
As the industry strengthens its focus on patient centricity, Direct-to-Patient clinical trials have emerged as a popular trial design that have the potential to increase patient recruitment and retention. IRT plays a crucial role in the success of a Direct-to-Patient trial. Because drug supplies are being managed and shipped from distribution facilities directly to patients' homes, a sponsor must have a high-quality system in place to accurately track the chain of custody, ensure patient-blinding and handle other logistical challenges. What You Will Learn Benefits and challenges associated with the Direct-to-Patient model Bellerophon's top considerations when implementing this trial design How IRT can equip study teams to successfully track chain of custody, ensure patient blinding, and handle logistical challenges
by Suvoda
Results from the trial showed that the drug met all primary and key secondary endpoints at week 16 primary efficacy analysis.
It was observed that subjects administered with the drug candidate experienced significantly less pain and improved functional ability, compared to the placebo group.
Formulated by Regeneron using its VelocImmune technology, fasinumab is an investigational candidate that targets the nerve growth factor (NGF) protein associated with pain signalling regulation.
Fasinumab is being co-developed by Regeneron and Teva under a global collaboration agreement.
The randomised, double-blind, placebo-controlled phase III trial evaluated the safety and tolerability of subcutaneous 1mg dose of fasinumab every four or eight weeks over 52 weeks of active treatment.
The co-primary endpoints are change in pain and physical function from baseline at week 16. Fasinumab therapy continued for additional 36 weeks, followed by a 20-week follow-up study. The long-term primary safety analysis is set to be carried out at 72 weeks.
"We look forward to advancing our pivotal phase III fasinumab programme in patients with osteoarthritis of the knee or hip."
Upon analysis of interim data, the drug candidate was found to be generally well tolerated. The adverse events (AEs) were similar to those observed in prior fasinumab trials.
Regeneron Pharmaceuticals president and chief scientific officer George Yancopoulos said: "We are encouraged by this data and look forward to advancing our pivotal phase III fasinumab programme in patients with osteoarthritis of the knee or hip who currently have very limited therapeutic choices to treat their chronic pain, other than with non-steriodal anti-inflammatory drugs or opioids."
Currently, fasinumab is being assessed in a total of three phase III trials for treating chronic pain caused by OA of the knee or hip.
One of the trials is designed to investigate the drug candidate's long-term safety, while the remaining two studies compare it to standard pain therapies.
Free Case Study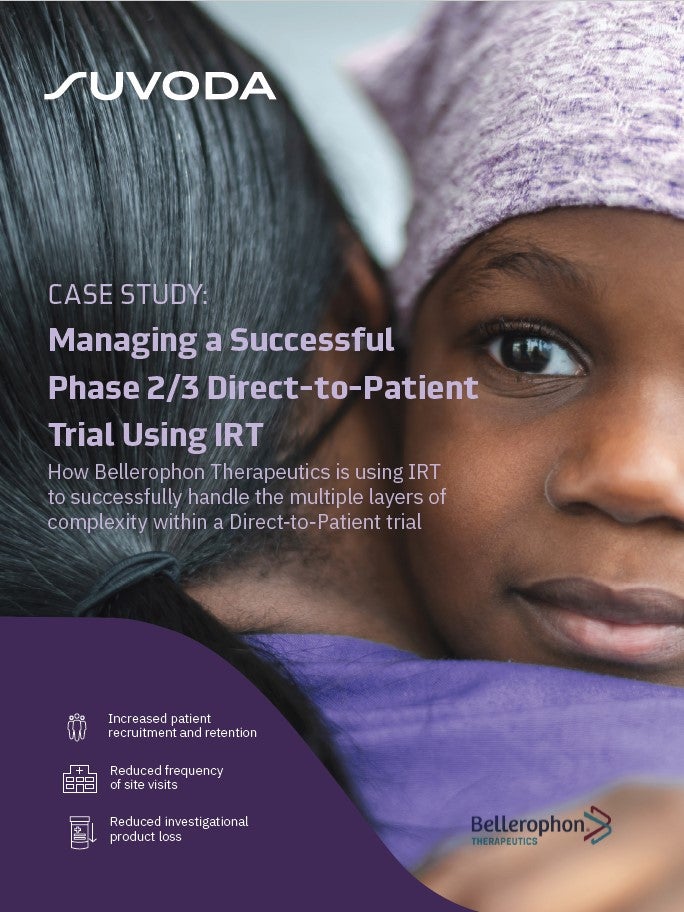 Direct-to-Patient Trials: How IRT Plays an Important Role in Bellerophon's Direct-to-Patient Trials
As the industry strengthens its focus on patient centricity, Direct-to-Patient clinical trials have emerged as a popular trial design that have the potential to increase patient recruitment and retention. IRT plays a crucial role in the success of a Direct-to-Patient trial. Because drug supplies are being managed and shipped from distribution facilities directly to patients' homes, a sponsor must have a high-quality system in place to accurately track the chain of custody, ensure patient-blinding and handle other logistical challenges. What You Will Learn Benefits and challenges associated with the Direct-to-Patient model Bellerophon's top considerations when implementing this trial design How IRT can equip study teams to successfully track chain of custody, ensure patient blinding, and handle logistical challenges
by Suvoda