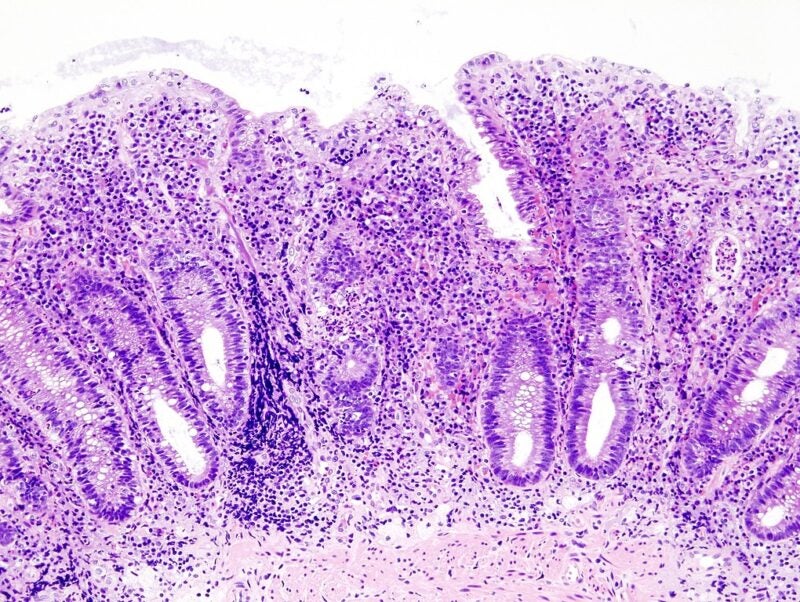 The US Food and Drug Administration (FDA) has granted approval to AbbVie's Rinvoq (upadacitinib) to treat adult patients with moderate-to-severe active ulcerative colitis (UC).
A selective inhibitor of Janus kinase (JAK), Rinvoq is indicated to treat UC patients who had reduced response or are not tolerant to one or more tumour necrosis factor (TNF) blockers.
This approval is the first indication for the therapy in gastroenterology and is backed by safety and efficacy findings from three randomised, double-blind, placebo-controlled Phase III clinical trials.
The two induction studies, U-ACHIEVE and U-ACCOMPLISH, analysed 45mg once a day dose of Rinvoq for eight weeks and subsequently 15 or 30mg once a day dose was assessed in the U-ACHIEVE maintenance study for 52 weeks.
Clinical remission for every modified Mayo Score (mMS) at weeks eight and 52 for the induction and maintenance trials, respectively, were the primary endpoints.
Findings showed that more subjects who received Rinvoq attained clinical remission at eight and 52 weeks versus placebo in all the trials.
Furthermore, a greater number of subjects in the Rinvoq arm had a clinical response as early as the second week and steroid-free clinical remission at one year.
All ranked secondary endpoints, which include endoscopic improvement and histologic-endoscopic mucosal improvement (HEMI), were met in the trials in addition to corticosteroid-free clinical remission in the maintenance trial. 
Rinvoq initially obtained approval in 2019 and is presently indicated for four indications in gastroenterology, dermatology and rheumatology.
AbbVie research and development senior vice-president and chief scientific officer Thomas Hudson said: "There remains an unmet need for patients with moderately to severely active UC, who suffer from debilitating symptoms that are often unpredictable and burdensome.
"With the approval of Rinvoq as a new treatment option, AbbVie continues our leadership in advancing research that can help impact the lives of people living with ulcerative colitis."