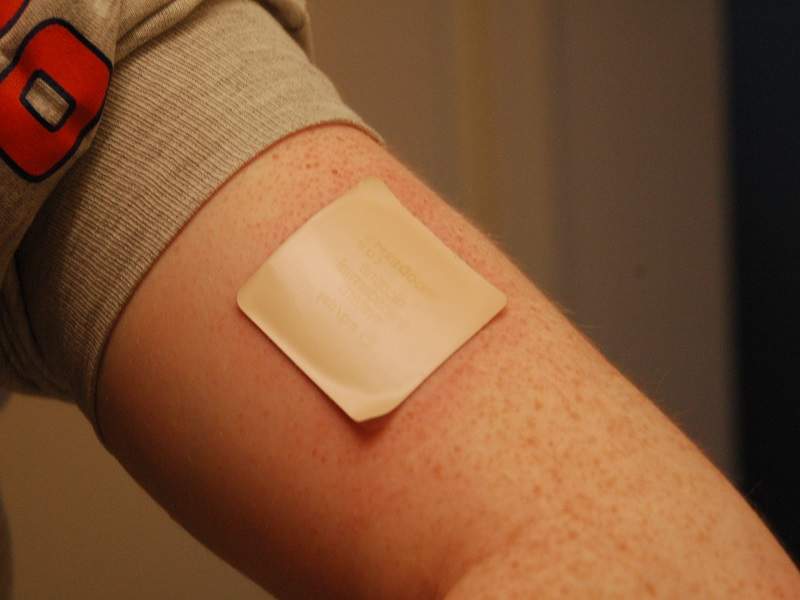 The US Food and Drug Administration (FDA) has granted Sorrento Therapeutics subsidiary Scilex approval for its non-opioid pain relieving patch ZTlido.
The bandage-like patch has been approved for the relief of pain associated with post-herpetic neuralgia (PHN)─ a complication of shingles that causes nerve pain.
The patch contains lidocaine, a medication used to numb tissue in a specific area.
According to an FDA report of the product quality of transdermal drug delivery systems, adhesion was the most widely reported quality defect. Sorrento claims that what sets the product apart from competitor Endo International's lidocaine patch Lidoderm is its adhesion properties. It uses 'proprietary adhesion technology' meaning the drug can be delivered effectively for 12 hours.
"ZTlido was designed to solve a problem that is commonly reported with transdermal/topical patches: they don't stay on. Based on the adhesion study results with ZTlido, we believe that ZTlido product will be welcomed by healthcare providers, patients and payers who are looking for an effective and efficient, local pain treatment," said chairperson and CEO of Sorrento and Scilex Dr Henry Ji.
The product only requires 36 mg/topical system versus 700 mg/patch of Lidoderm to achieve the same therapeutic dose of drug. The question remains whether ZTlido can compete with Lidoderm, which has been on the market since 1999.
Scilex─which was acquired by Sorrento in 2016─ intends to make ZTlido commercial available to patients in the US by the end of 2018.
Shares in Sorrento rose 18.3% following the announcement. According to Reuters, an analyst at HC Wainwright expects US sales of the ZTlido to peak at $1.1 billion in 2025.
Scilex originally submitted a new drug application for ZTlido in 2015, but it was rejected by the FDA 2016.
Sorrento is also developing non-opioid pain management for terminal cancer patients, with a candidate currently going through a phase IB trial.
With US opioid manufacturers under increasing scrutiny over their role in the opioid crisis, manufacturers of non-opioid alternatives may benefit, with more than 100 million prescription lidocaine patches sold in the US in 2017 according to recent IMS Health data.
"Topical lidocaine is an important option for healthcare providers to have in their armamentarium for treating PHN, a difficult-to-treat neuropathic pain," said Dr Jeff Gudin, director of pain management and palliative care at Englewood Hospital and Medical Center.
"The Centers for Disease Control and Prevention's guideline of non-opioid treatments for chronic pain recognizes topical lidocaine as an alternative first-line therapy. ZTlido now offers providers and patients this option."
Shingles is an infection of a nerve and the skin around it. It is caused by the varicella-zoster virus, which also causes chickenpox. Almost one in three people in the US will develop shingles.