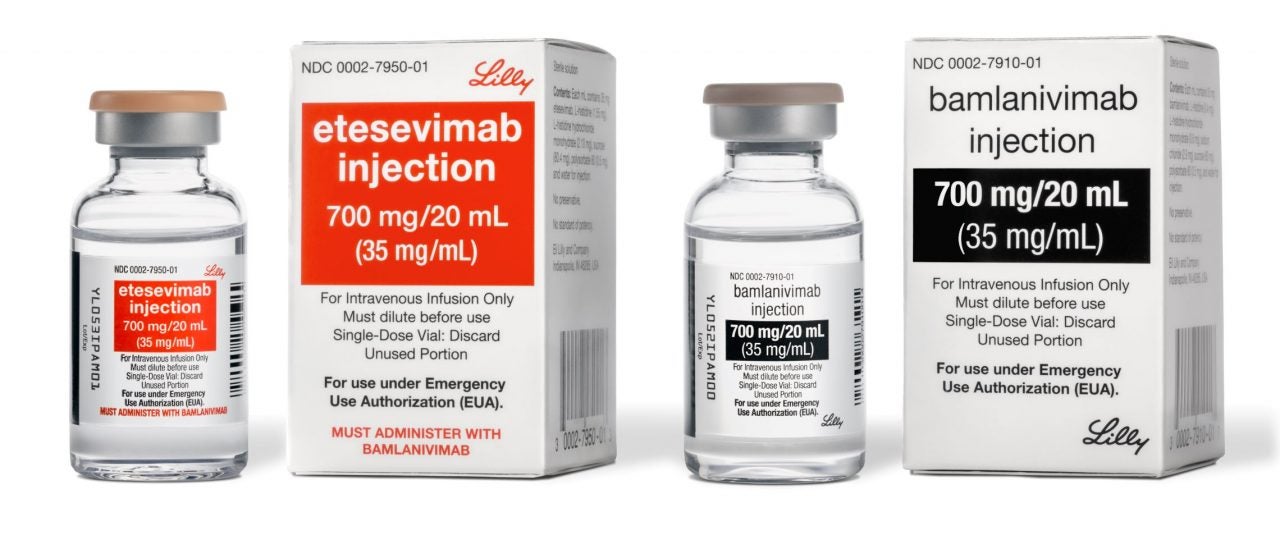 The US Food and Drug Administration (FDA) has granted Emergency Use Authorisation (EUA) to Eli Lilly and Company's investigational bamlanivimab (LY-CoV555) 700mg and etesevimab (LY-CoV016) 1400mg combination for Covid-19.
Developed in collaboration between Lilly and AbCellera, bamlanivimab is a recombinant, neutralising human IgG1 monoclonal antibody directed against SARS-CoV-2 spike protein, while etesevimab is a recombinant fully human monoclonal neutralising antibody.
The latest authorisation derives from Phase III data from the BLAZE-1 trial, which showed that the combination therapy lowered the risk of Covid-19 hospitalisations and death by 70%.
The combination is authorised for treating mild to moderate Covid-19 in patients aged 12 years and above at high risk for progressing to severe disease and / or hospitalisation.
Bamlanivimab and etesevimab should be given together via a single intravenous infusion soon after a positive Covid-19 test and within ten days of symptom onset.
Furthermore, the FDA authorised infusion times for bamlanivimab alone and bamlanivimab and etesevimab together to be as short as 16 or 21 minutes, respectively.
Lilly chief scientific officer and Lilly Research Laboratories president Daniel Skovronsky said: "Bamlanivimab alone under emergency use authorisation has already provided many people with an early treatment option that could prevent hospitalisations and we are excited to now add an additional therapeutic option with a similar demonstrated clinical benefit.
"Additionally, with the risk of resistance emerging as various strains of the virus arise, bamlanivimab and etesevimab together could potentially allow efficacy against a broader range of naturally occurring SARS-CoV-2 variants as these new strains spread around the world."
Lilly, in partnership with Amgen, intends to produce up to one million doses of etesevimab for administration with bamlanivimab by mid-year.
Earlier this month, Lilly and local health systems partnered to establish dedicated infusion centre locations in the US to offer Hoosiers with access to vital Covid-19 treatments.
In a separate development, Moderna entered supply agreements for the Covid-19 Vaccine Moderna with the Government of Taiwan and the Government of Colombia.
According to the terms of the agreements, Moderna will deliver five million and ten million doses of the vaccine to Taiwan and Columbia, respectively, starting from mid-year.
At present, the COVID-19 Vaccine Moderna remains unapproved for use in Taiwan or Colombia. Prior to its distribution, the company will work with regulators for necessary approvals.