The US Food and Drug Administration (FDA) has granted Rare Pediatric Disease Designation for iECURE's GTP-506 to treat Ornithine Transcarbamylase (OTC) deficiency in paediatric patients.
A lead product candidate of the company, GTP-506 is a single-dose gene editing therapy.
It has two vectors, an ARCUS nuclease vector (GTP-506A) and a therapeutic donor vector (GTP-506D).
The ARCUS nuclease vector (GTP-506A) targets gene editing in the PCSK9 gene locus that is well characterised, while the therapeutic donor vector (GTP-506D) introduces the OTC gene to provide the required genetic correction.
The cut in the PCSK9 site acts as the therapeutic gene's insertion site, offering a possible route for a healthy gene's permanent expression.
This gene therapy is intended to restore metabolic function in OTC deficiency patients.
iECURE's gene editing approach is based on delivering twin adeno-associated virus (AAV) capsids with varying payloads.
A Rare Pediatric Disease status is awarded by the regulatory agency for critical and fatal ailments that mainly impact children aged 18 years or below and less than 200,000 individuals in the US.
iECURE CEO Joe Truitt said: "Receiving Rare Pediatric Disease Designation for GTP-506 for the treatment of OTC deficiency highlights the dire need for new treatment options for this devastating pediatric disease.
"GTP-506 is a potentially transformative therapy for babies born with OTC deficiency and we expect to file an IND application with the FDA for our first-in-human clinical trial in mid-2023."
A prevalent urea cycle disorder, OTC deficiency is caused by a genetic defect in a liver enzyme that is in charge of ammonia detoxification.
People with this inherited metabolic disorder can accumulate high ammonia levels in the blood, which leads to devastating results, including coma, neurological damage and death.
Cell & Gene Therapy coverage on Pharmaceutical Technology is supported by Cytiva.
Editorial content is independently produced and follows the highest standards of journalistic integrity. Topic sponsors are not involved in the creation of editorial content.
Free Whitepaper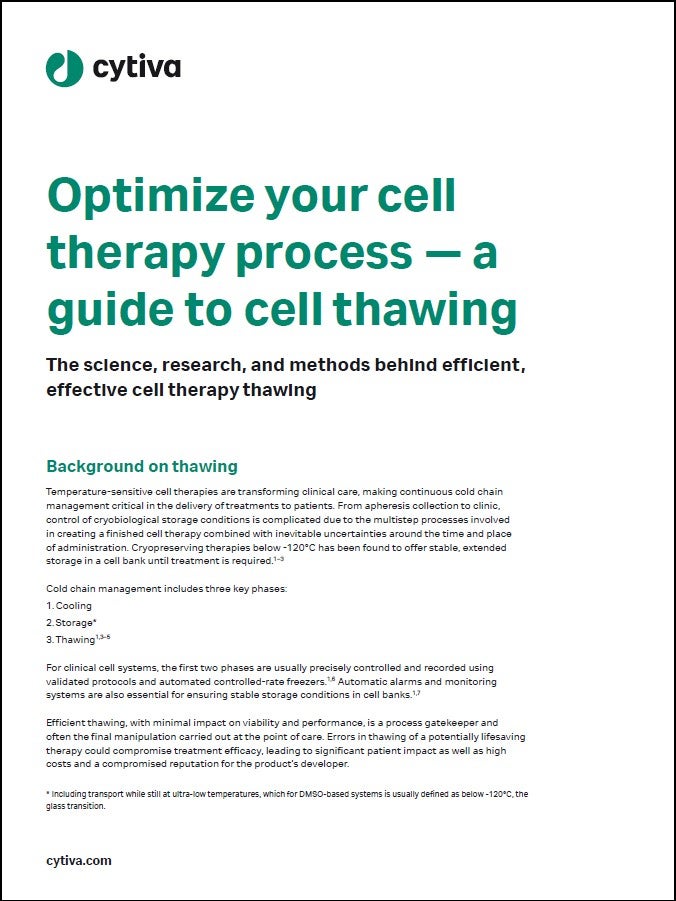 Optimise your cell therapy process: a guide to cell thawing
Typically carried out at the point of care, errors in cell therapy thawing could compromise treatment efficacy, leading to significant patient impact as well as high costs and a compromised reputation for the product's developer. This guide addresses how cell thawing has historically developed into the new techniques used today, along with the physical and biological implications of key metrics and components such as warming rate and ice structure. Also included are reviews of key studies from scientific literature and a consideration of the interactions between cooling and warming rates, as applicable to cell and gene therapies.
by Cytiva Thematic
By clicking the Download Free Whitepaper button, you accept the terms and conditions and acknowledge that your data will be used as described in the Cytiva Thematic privacy policy By downloading this Whitepaper, you acknowledge that we may share your information with our white paper partners/sponsors who may contact you directly with information on their products and services.

Visit our privacy policy for more information about our services, how we may use, process and share your personal data, including information on your rights in respect of your personal data and how you can unsubscribe from future marketing communications. Our services are intended for corporate subscribers and you warrant that the email address submitted is your corporate email address.