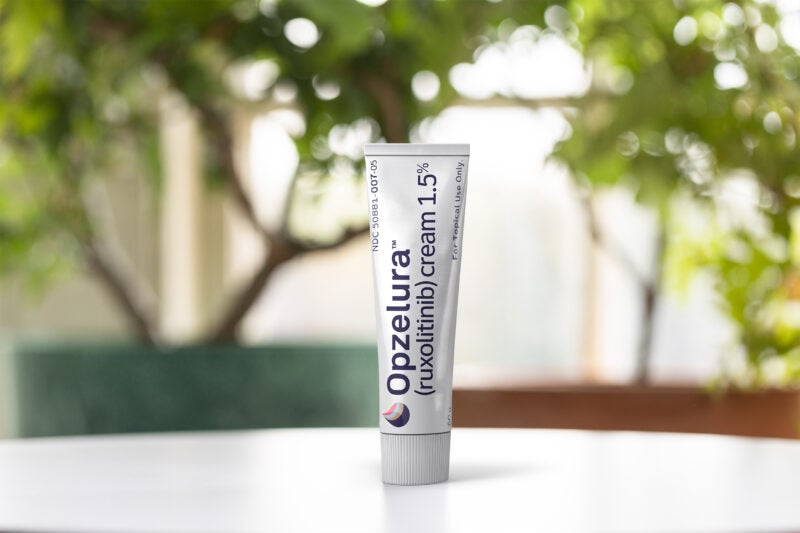 The US Food and Drug Administration (FDA) has granted approval for Incyte's Opzelura (ruxolitinib) cream 1.5% as a topical treatment of nonsegmental vitiligo in adults and paediatric patients aged 12 years and above.
Opzelura is a topical formulation of a Janus kinase (JAK) inhibitor.
With the latest development, Opzelura has became the first treatment for repigmentation in patients with vitiligo to receive FDA approval. 
In non-segmental vitiligo patients, it is indicated for continuous topical use twice a day to affected regions of up to 10% body surface area.
The company noted that satisfactory patient response may need Opzelura application for over 24 weeks.
The approval was based on findings from the Phase III TRuE-V clinical trial programme, TRuE-V1 and TRuE-V2, assessing the safety and efficacy of Opzelura compared with 'vehicle' in over 600 individuals with nonsegmental vitiligo of the age 12 years and above.
In the trials, Opzelura offered substantial improvements in VASI scores, which indicated improvements in facial and total body repigmentation at week 24 versus vehicle and in an open-label extension at week 52.
As per results at week 24, nearly 30% of subjects receiving Opzelura attained ≥75% improvement from baseline in the facial Vitiligo Area Scoring Index (F-VASI75), the primary endpoint, versus nearly 8% and 13% of subjects who received vehicle in TRuE-V1 and TRuE-V2, respectively.
The findings were consistent across both trials.
Furthermore, at week 52, nearly 50% of the subjects who received Opzelura attained F-VASI75.
More than 15% of subjects who received Opzelura attained ≥90% improvement from baseline in F-VASI (F-VASI90) at week 24 versus nearly 2% of subjects in the vehicle.
The percentage of subjects treated with Opzelura attained F-VASI90 doubled to nearly 30%, at week 52.
Incyte CEO Hervé Hoppenot said: "With the approval of Opzelura in nonsegmental vitiligo, Incyte has once again delivered a treatment to patients with high unmet medical need who previously had no approved therapies.
"We are proud of Incyte's scientists and development teams that have made this milestone possible, and we're pleased that eligible vitiligo patients now have a choice to address repigmentation."