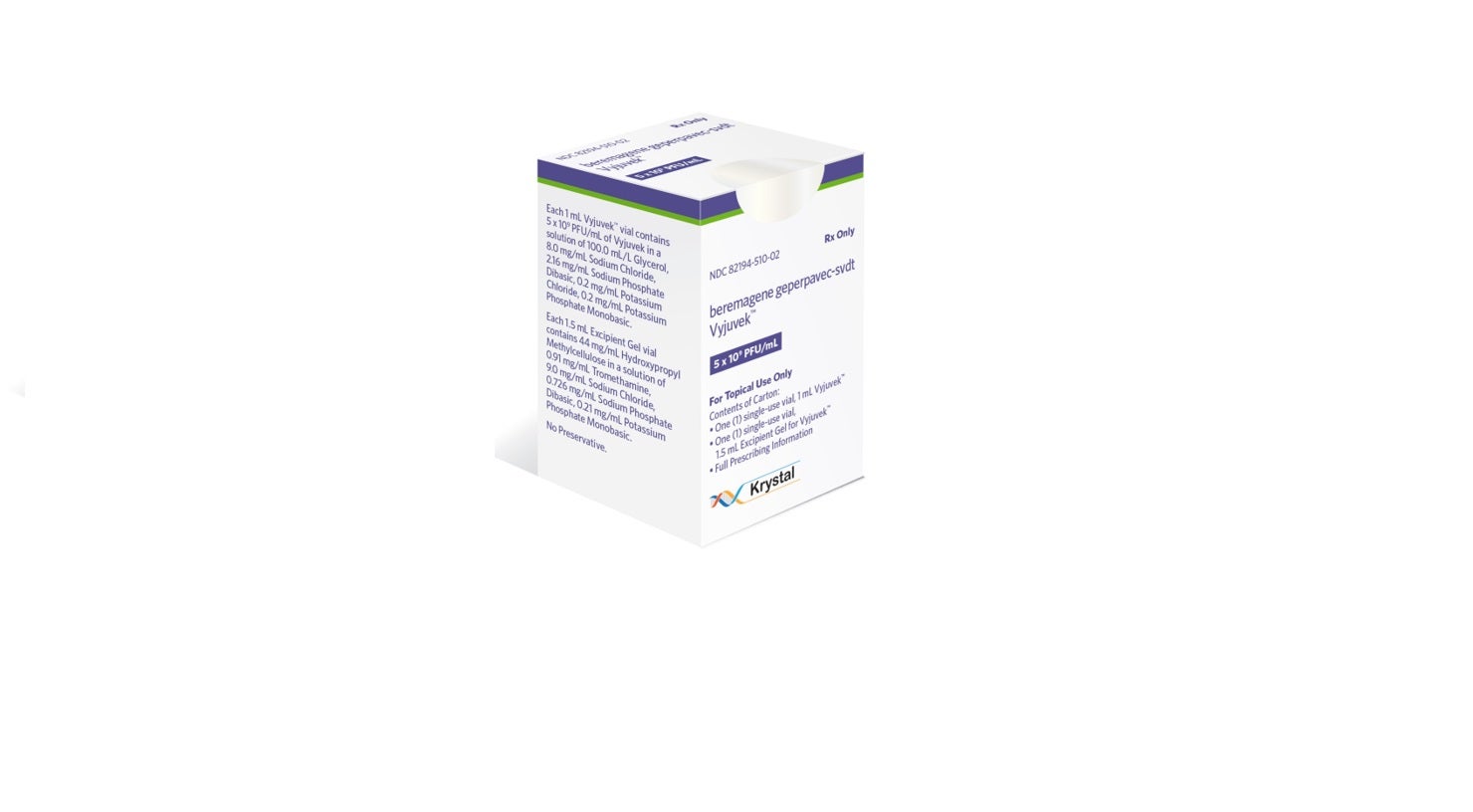 The US Food and Drug Administration (FDA) has granted approval for Krystal Biotech's Vyjuvek (beremagene geperpavec-svdt) to treat dystrophic epidermolysis bullosa (DEB) in patients aged six months and above.
Vyjuvek is a non-invasive, topical, re-dosable gene therapy that delivers functional human COL7A1 gene copies to offer wound healing.
It is claimed to be both the first re-dosable gene therapy and the first and only FDA-approved treatment for both recessive and dominant types of DEB, a rare and serious genetic disease affecting the skin and mucosal tissues.
Krystal Biotech chairman and chief executive officer Krish S Krishnan stated: "Today's landmark approval of Vyjuvek as the first re-dosable gene therapy ushers in a whole new paradigm to treat genetic diseases and is an important milestone for patients affected by DEB as well as their families and caregivers.
"We offer our sincere gratitude to DEB patients, caregivers, investigators, US regulators and our employees who made this approval possible.
"For Krystal, this is a transformative achievement that highlights our commitment to developing and commercialising novel therapies for patients with rare diseases, and demonstrates Krystal's capability as a fully-integrated company ready to launch and bring Vyjuvek to patients as quickly as possible and deliver additional transformative medicines to patients as we advance our pipeline."
The regulatory approval was supported by data from the GEM-1/2 and GEM-3 clinical trials.
In the GEM-1/2 trial, repeat topical applications of Vyjuvek resulted in full-length cutaneous COL7 expression, durable wound closure and anchoring fibril assembly with minimal adverse events.
The randomised, intra-patient, multi-centre, double-blinded, placebo-controlled GEM-3 trial met both its primary endpoint of complete wound healing at six months as well as its important secondary endpoint of complete wound healing at three months.
The company intends to commercialise Vyjuvek in the US in the third quarter of 2023.
Cell & Gene Therapy coverage on Pharmaceutical Technology is supported by Cytiva.
Editorial content is independently produced and follows the highest standards of journalistic integrity. Topic sponsors are not involved in the creation of editorial content.