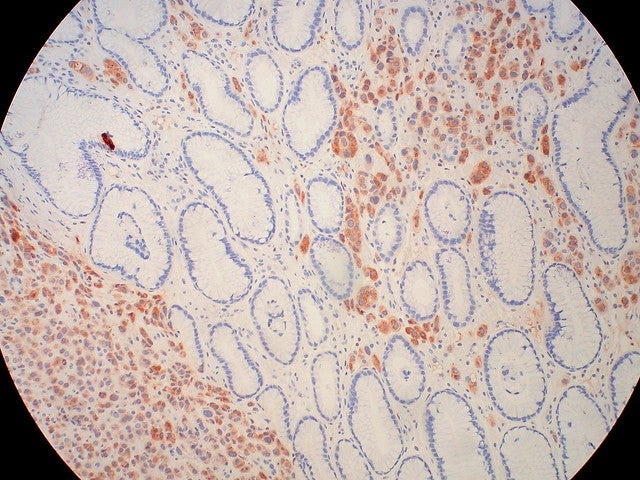 Novartis has announced the US Food and Drug Administration (FDA) has approved its drug Piqray (alpelisib) as the first PIK3CA inhibitor.
Piqray will now be a first-in-class treatment for postmenopausal women and men with hormone receptor positive, human epidermal growth factor receptor-2 negative (HR+/HER2-), PIK3CA-mutated advanced or metastatic breast cancer.
PIK3CA is the most common mutation in HR+/HER2- breast cancer and it is associated with tumour growth, resistance to endocrine treatment and poor overall prognosis.
The drug's approval was based upon the results of the Phase III SOLAR-1 trial of 572 men and menopausal women whose cancer had progressed after endocrine therapy. In the study, Piqray combined with endocrine therapy fulvestrant was compared to fulvestrant alone.
In the study, median progression-free survival (PFS) of the combination group was almost double the control group; Piqray plus fulvestrant had PFS of 11 months, compared to 5.7 months for fulvestrant alone.
Overall response rate more than doubled with the addition of Piqray to fulvestrant; 35.7% for the combination, 16.2% for the monotherapy.
Novartis Oncology CEO Susanne Schaffert said: "The FDA approval of Piqray, which was discovered at the Novartis Institutes for BioMedical Research, marks the first ever treatment specifically for HR+/HER2- advanced breast cancer with a PIK3CA mutation.
A diagnostic test manufactured by Qiagen, which identifies the presence of the mutation called therascreen PIK3CA RGQ PCR Kit was approved alongside Piqray.
Global principal investigator of SOLAR-1 study and Institut Gustave Roussy Department of Medical Oncology professor, research director and head of INSERM Unit U981 Fabrice André said: "Today's approval is expected to change the way we practice medicine in advanced breast cancer. For the first time, physicians can test for PIK3CA biomarkers and develop a treatment plan based on the genomic profile of a patient's cancer.
"In the SOLAR-1 Phase III trial, alpelisib plus fulvestrant nearly doubled median PFS and more than doubled overall response rate in patients with a PIK3CA mutation, offering them new hope for longer life without progression."
FDA Oncology Center of Excellence director and Center for Drug Evaluation and Research's Office of Hematology and Oncology Products acting director Richard Pazdur said: "Piqray is the first PI3K inhibitor to demonstrate a clinically meaningful benefit in treating patients with this type of breast cancer.
"This drug is the first novel drug approved under the Real-Time Oncology Review pilot program. We also used the updated Assessment Aid, a multidisciplinary review template that helps focus our written review on critical thinking and consistency and reduces time spent on administrative tasks."