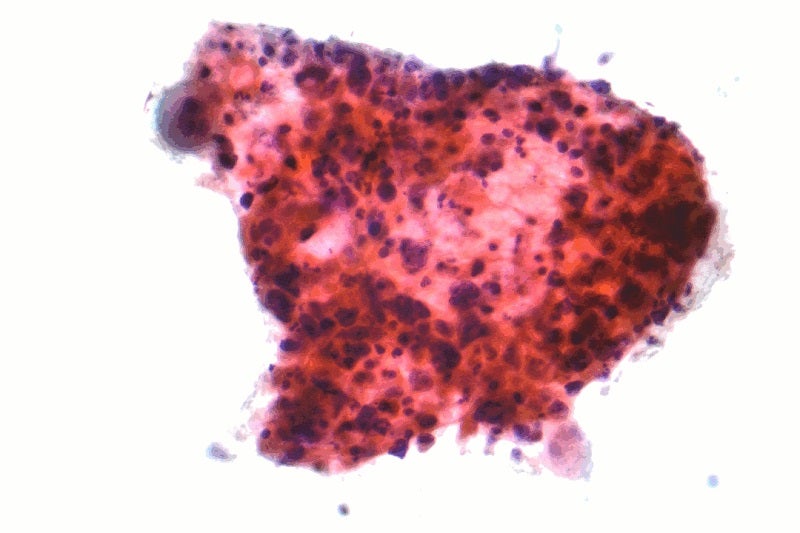 The US Food and Drug Administration (FDA) has approved Regeneron Pharmaceuticals' PD-1 inhibitor Libtayo (cemiplimab-rwlc) and chemotherapy combination as the first-line treatment for advanced non-small cell lung cancer (NSCLC).
The combination therapy has been approved to treat advanced NSCLC in adult patients with no EGFR, ALK or ROS1 aberrations.
It is also approved for patients with either metastatic or locally advanced tumours that will not respond to surgical resection or definitive chemoradiation.
Patients may receive this therapy regardless of PD-L1 expression or tumour histology.
The regulatory approval is based on results obtained from the international Phase III EMPOWER-Lung 3 trial.
In the study, Libtayo and a physician's choice of platinum-doublet chemotherapy were compared to platinum-doublet chemotherapy alone.
Approximately 466 patients with locally advanced or metastatic NSCLC with no ALK, EGFR or ROS1 aberrations and irrespective of PD-L1 expression or tumour histology, were enrolled in the study.
Regeneron Oncology, Translational and Clinical Sciences, senior vice-president Israel Lowy said: "Libtayo is now approved for extending the survival of patients with advanced non-small cell lung cancer as both a monotherapy in high PD-L1 expressors and in combination with chemotherapy irrespective of PD-L1 expression levels, achieving a high bar that has only been met by one other PD-1 targeting agent.
"With this FDA approval, Libtayo can expand its role as a key treatment option for advanced non-small lung cancer, in addition to serving as a standard-of-care for two advanced non-melanoma skin cancers.
"We are committed to investigating Libtayo through ongoing trials as a monotherapy and as a backbone of combination treatments in multiple cancers."
Musculoskeletal pain, fatigue, alopecia, nausea, peripheral neuropathy and decreased appetite are the most common adverse reactions.