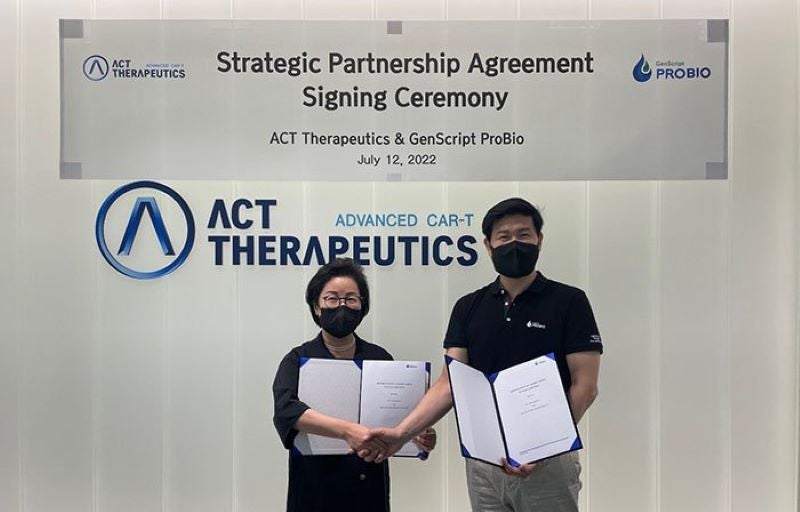 GenScript ProBio has signed a strategic collaboration memorandum of understanding (MoU) with ACT Therapeutics to develop a next-generation chimeric antigen receptor (CAR)-T cell therapy platform.
Through this collaboration, the companies have agreed to bolster their cooperation in the cell therapy field.
GenScript and ACT are working on the signing of a contract for developing and manufacturing plasmid and virus vector for the first pipeline of ACT's advanced CAR-T Platform (ACT platform).
This platform will be commissioned to manufacture raw materials for the subsequent pipeline of ACT.
An advanced CAR-T technology with a next-generation structure, the ACT platform targets existing blood cancer by bypassing the immune suppression microenvironment of solid cancer and stimulating surrounding immune cells.
With the signing of the MoU, GenScript became a worldwide partner that can support ACT platforms for ACT therapeutics.
The platform is an immune cell-based next-generation cell and gene therapy technology that leverages virus vectors to insert genes targeting cancer antigens into immune cells.
GenScript possesses a high-quality virus vector process development and one-stop service platform for GMP manufacturing needed for developing cell and gene therapies.
ACT Therapeutics CEO Seogkyoung-Kong said: "We have completed preparations for the ACT platform to emerge globally through a strategic partnership with GenScript ProBio.
"We will accelerate the development of treatments targeting refractory and intractable solid cancers."
Cell & Gene Therapy coverage on Pharmaceutical Technology is supported by Cytiva.
Editorial content is independently produced and follows the highest standards of journalistic integrity. Topic sponsors are not involved in the creation of editorial content.