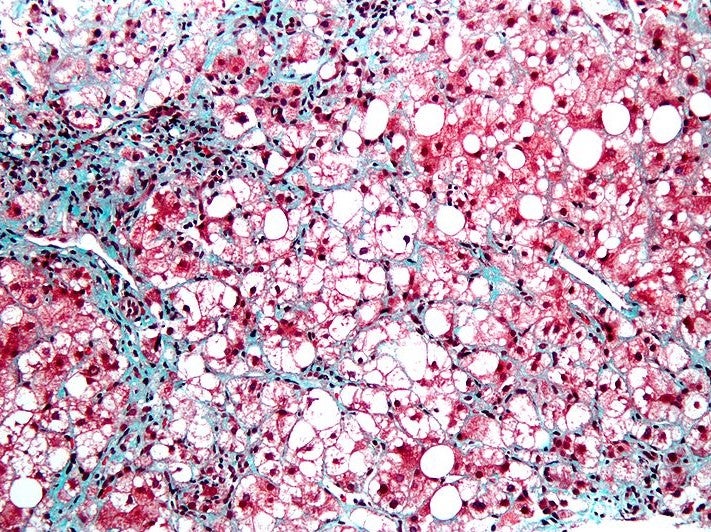 Gilead has announced it will be leveraging Glympse Bio's synthetic biomarker technology to support its nonalcoholic steatohepatitis (NASH) clinical development programme.
Glympse Inside bioengineers synthetic biomarkers and combines them with machine learning approaches to help identify the stage and progression of diseases, and therefore detect early responses to certain treatments, without the need for invasive liquid biopsy tests.
The technology has been developed for a range of complex disease, including cancer, inflammatory conditions and fibrosis, however, its lead programme is in NASH.
Gilead will employ this technology to determine the stage of disease when screening and recruiting patients for NASH clinical trials and for understanding responses to Gilead's drugs in the NASH clinical development programme.
Gilead senior vice-president of liver diseases Mani Subramanian said: "We are excited about the opportunity to partner with Glympse Bio to help inform our NASH development program.
"By utilizing this innovative technology, we hope to better characterize this complex disease and improve our understanding of how our compounds impact disease progression."
Glympse Bio CEO and president Caroline J Loew said: "We are very excited about partnering with Gilead, a leader in drug development, to help drive earlier and more favourable outcomes for patients.
"Gilead's commitment to developing innovative medicines in areas of high unmet medical need aligns with our mission of transforming disease detection and measuring treatment response, all with the goal of helping improve the lives of patients."
Gilead's current clinical development programme for NASH includes two Phase II products: farnesoid X receptor agonist Cilofexor and acetyl-CoA carboxylase inhibitor Firsocostat.
The company has signed multiple other technology-focused collaborations in the NASH space in 2019. One example is an agreement signed in April this year with Insitro; Gilead will leverage its machine learning, genetics and functional genomics platform to create disease models for NASH and develop new targets related with the progression and regression of the disease.