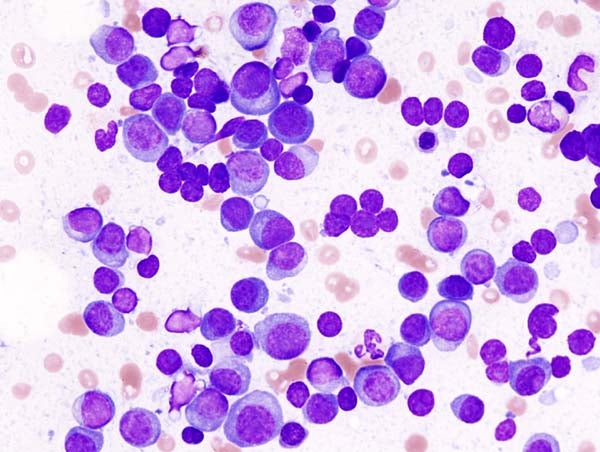 GlaxoSmithKline (GSK) has announced its experimental drug belantamab mafodotin (GSK2857916) has met its primary endpoint in the DREAMM-2 trial of patients with relapsed and refractory multiple myeloma.
The primary objective of the DREAMM-2 study was a clinically meaningful overall response rate with the drug in a patient population, which were refractory to three existing therapies: an immunomodulatory drug, a proteasome inhibitor, and an anti-CD38 antibody.
The safety and tolerability of belantamab mafodotin was consistent with the DREAMM-1 trial.
Full results from the DREAMM-2 study will be presented an upcoming medical meeting, and they will form the basis of regulatory filings for belantamab mafodotin, which are expected to begin next year.
GSK chief scientific officer and president of research and development Dr Hal Barron said: "I am pleased with the results of the DREAMM-2 study and excited about what these data could mean for patients with multiple myeloma who have exhausted other lines of treatment."
Multiple myeloma is the second most common blood cancer, and unfortunately it easily becomes refractory to existing treatments.
Belantamab mafodotin is a humanised anti-B cell maturation antigen (BCMA) monoclonal antibody, which targets auristatin F, a cytotoxic agent.
BCMA is a pathway proven to be crucial for myelcoma cell growth and survival; it is universally detected in myleoma cell lines.
The drug is currently being investigated in combination with other drugs and in different patient populations in the wider DREAMM clinical programme.
For example, in the DREAMM-4 trial belantamab mafodotin is being investigated in combination with pembrolizumab in relapsed/refractory multiple myeloma. Whereas in the DREAMM-9 study, the drug is being observed in combination with bortezomib, lenalidomide and dexamethasone in newly diagnosed multiple myeloma patients who are not eligible for a transplant.
Barron commented: "We are on track to file belantamab mafodotin later this year and continue to investigate how it could help even more patients with this disease."