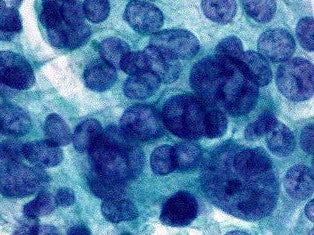 San Diego-based biotech Halozyme has announced its metastatic pancreas cancer drug PEGPH20 failed to meet its primary endpoint of overall survival (OS) in a Phase III trial.
Although PEGPH20 combined with gemcitabine and nab-paclitaxel (Abraxane) caused a higher response rate than Abraxane and gemcitabine alone, this did not translate into an improved duration of response in terms of progression-free survival or OS.
In the Phase III HALO-301 trial, median OS for the PEGPH20 group was 11.2 months, compared to 11.5 months for the control group.
Halozyme president and CEO Dr Helen Torley said: "Patients in both treatment arms of the HALO-301 trial surpassed the published median overall survival rates from the pivotal registration study of Abraxane plus gemcitabine as first-line therapy for metastatic pancreas cancer, published in 2013.
"Based on the lack of benefit over standard-of-care in this study, which performed well versus published data, we will be discontinuing PEGPH20 clinical development. This well-designed and well-executed study did not have the outcome that we or the study participants wanted or expected.
"I would like to extend a heartfelt thank you to all those who supported and who made this study possible, including the patients who were enrolled, their families, our investigators, their staff, our investors and all of the dedicated Halozyme employees."
In addition to announcing the halting all PEGPH20 development programmes, Halozyme revealed it would be restructuring to focus away from oncology and towards its ENHANZE drug delivery technology.
This technology supports its partners with manufacturing, quality control, regulatory compliance and product development. It is collaborating with large pharma companies, including AbbVie, Bristol-Myers Squibb and Roche, on this project. There are currently three commercial products linked with this platform, as well as 11 in clinical development.
This restructuring involves reducing Halozyme's workforce by 55%, which expected to save the company between $130m and $140m. It would leave just 120 employees working on ENHANZE and 12 people promoting the company's commercial drug Hylenex, a recombinant to support the dispersion and absorption of other injected drugs.