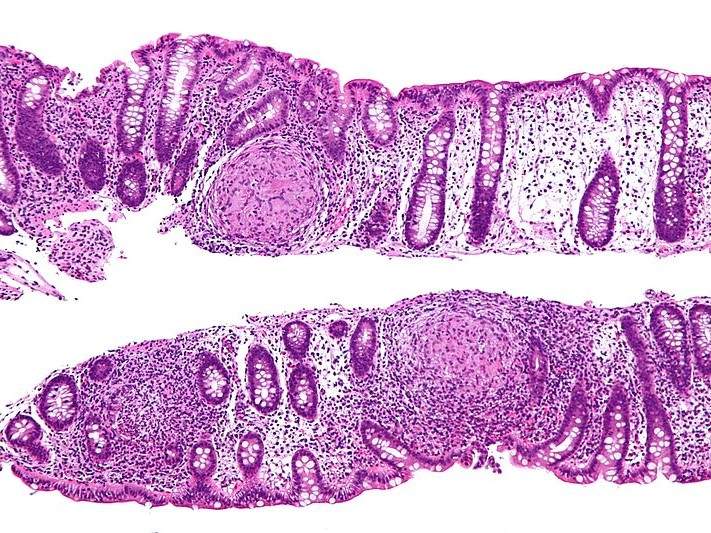 Johnson and Johnson subsidiary Janssen has presented new data at the 2018 Digestive Disease Week in Washington, DC from its trial of ustekinumab that suggests the drug can reduce the risk of Crohn's disease-related hospitalisation, surgery and the need for alternative biologic treatments compared with placebo.
The company estimates hospitalisation accounts for between 50% and 80% of healthcare costs associated with the disease and between 40% and 60% related with surgery as a result of connected damage to the bowel, which can cause ulcers, scaring and the narrowing of the gastrointestinal tract.
The study is titled IM-UNITI and it is a phase 3, multicentre, randomised, double-blind, placebo-controlled parallel group study. Participants were selected from those who responded to a single intravenous dose of ustekinumab in induction studies and then divided randomly into three groups: doses administered every 12 weeks, dosing every eight weeks and placebo.
Incidents of hospitalisation, surgery or initiation of biologic treatments were measured at 96 weeks. The trial found that patients receiving ustekinumab every 12 weeks were 52% less likely to admitted to hospital or require surgery than those taking the placebo. Those taking the drug every eight weeks were 40% less likely.
Patients taking the drug every eight weeks were 53% less likely to switch to alternative biologics than those taking the placebo. The figure dropped to 33% for those taking the treatment every 12 weeks.
IM-UNITI also measured the quality of life of participants through a questionnaire. The factors that had the largest negative impact on quality life at the beginning of the study, such as fatigue, sleep deprivation and loose stools, significantly improved by week eight for those taking ustekinumab compared with those taking the placebo.
Crohn's disease is a chronic inflammatory condition of the gastrointestinal tract that is asoociated with abnormality of the immune system. Symptoms vary, but usually include abdominal pain and tenderness, frequent diarrhoea, retinal bleeding, weight loss and fever.
Study investigator and University of California San Diego Health System gastroenterology chief professor William Sandborn said: "Crohn's disease can have a significant impact on patients, with most having multiple relapses and many experiencing complications that require intervention.
"This long-term data from IM-UNITI are particularly encouraging for clinicians as they demonstrate that treatment with ustekinumab reduced the need for hospitalisation, surgery, or a switch to another treatment."
Janssen is also studying ustekinumab to treat psoriasis and psoriatic arthritis. The drug has been approved in the European Union to treat the three disorders. It was approved for psoriasis for patients who did not respond to other systemic treatments, alone or in combination with methotrexate for psoriatic arthritis where patients have inadequately responded to antirheumatic drugs and for Crohn's disease in adults with an insufficient response to either conventional therapy or TNF alpha antagonists.