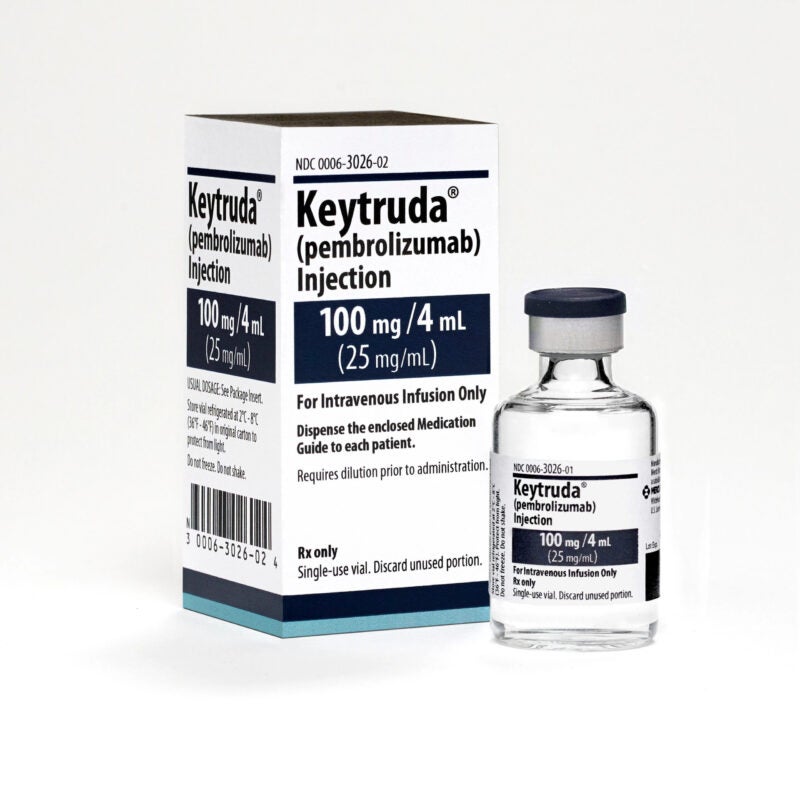 Japan's Ministry of Health, Labour and Welfare (MHLW) has granted four new approvals for Merck's (MSD outside North America) humanised monoclonal antibody, Keytruda (pembrolizumab), to treat various types of cancers.
The approvals include Keytruda plus chemotherapy as neoadjuvant treatment and then continued as a single agent for adjuvant treatment post-surgery in hormone receptor-negative and human epidermal growth factor receptor 2 (HER2)-negative breast cancer patients.
This indication is for breast cancer patients who are at great recurrence risk and is based on findings from the KEYNOTE-522 clinical trial.
The second approval is for the use of Keytruda single agent as adjuvant therapy for renal cell carcinoma (RCC) patients who are at greater recurrence risk post nephrectomy or after nephrectomy and metastatic lesion resection.
This approval is based on KEYNOTE-564 trial data.
The third approval is for Keytruda plus chemotherapy, with or without bevacizumab, to treat individuals with advanced or recurrent cervical cancer who have not received chemotherapy previously and are unresponsive to curative therapy.
Additionally, the antibody is approved as a monotherapy for the adjuvant treatment of stage IIB or IIC melanoma patients following complete resection.
Cervical cancer and melanoma indication are based on results from the KEYNOTE-826 and KEYNOTE-716 trials, respectively.
With the latest development, the antibody is indicated for 23 usages in 13 different cancer types of cancer in the country.
An anti-programmed death receptor-1 (PD-1) therapy, Keytruda acts by boosting the immune system's ability to find and fight tumour cells.
Merck Research Laboratories global clinical development head, senior vice-president and chief medical officer Dr Eliav Barr said: "Based on compelling data from our clinical trial programme, Keytruda has become an important treatment option in Japan and now has 23 approved uses across 13 different types of cancer.
"These four new approvals provide certain patients with advanced or recurrent cervical cancer, high-risk early-stage triple-negative breast cancer, renal cell carcinoma and completely resected stage IIB and IIC melanoma the opportunity to be treated with Keytruda."
In January, the European Commission (EC) approved Keytruda monotherapy for adjuvant treatment in adults with renal cell carcinoma.