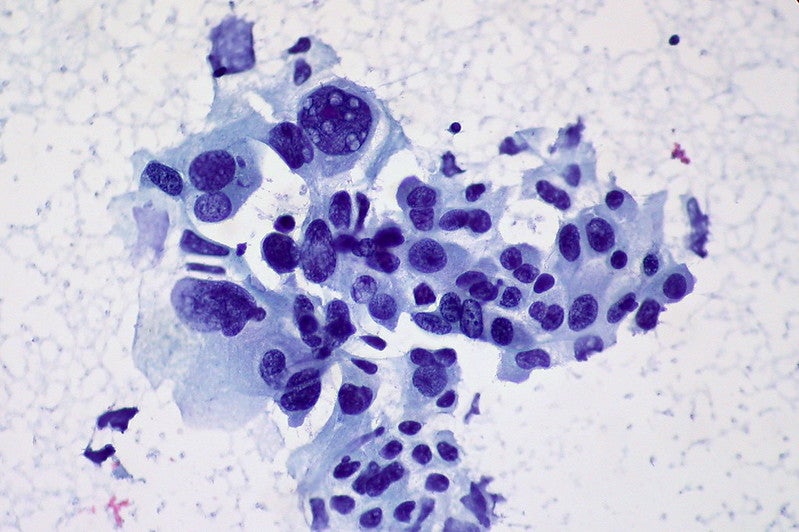 Ireland-based Jazz Pharmaceuticals and Spanish PharmaMar have announced the US Food and Drug Administration (FDA) has accepted its new drug application (NDA) and granted priority review to the latter's small cell lung cancer (SCLC) drug lurbinectedin.
Priority review is for diseases where there is a significant unmet needs; SCLC is a very aggressive cancer usually only diagnosed in later stages and has a worse prognosis than other lung cancer. Lurbinectedin's NDA is for relapsed SCLC following disease progression following platinum-containing therapy.
This review approach also means the FDA aims to approve the drug within six months of the NDA acceptance; the target decision date for lurbinectedin is set for 16 August this year.
This NDA acceptance is for lurbinectedin is based on the results of a Phase II monotherapy basket trial, which enrolled 105 patients in Europe and the US. Lurbinectedin met its primary endpoint of overall response rate (ORR); PharmaMar's drug demonstrated a 35.2% ORR, compared to historic 16.9% ORR of SCLC standard of care chemotherapy topotecan.
Lurbinectedin inhibits RNA polymerase II, the enzyme responsible for transcription in over-activated tumours.
The companies submitted their NDA in December following the signing of an exclusive licensing agreement in the US. This deal was closed in January under the Hart-Scott-Rodino Act.
According to the terms of this agreement, Jazz paid PharmaMar $200m upfront. The Spanish company will also be eligible for up to $800m in potential milestone payments, including $250m following the approval of the FDA approval of the drug and $550m in other commercial milestones. PharmaMar retains production rights for lurbinectedin.
PharmaMar president José María Fernández Sousa-Faro said: "We are very pleased with the lurbinectedin agreement with our new US partner Jazz.
"We are convinced that with Jazz, we have found a partner deeply committed to providing lurbinectedin to patients in the US.
"Lurbinectedin has the potential to become a therapeutic alternative for patients with relapsed small cell lung cancer, who have limited treatment options."