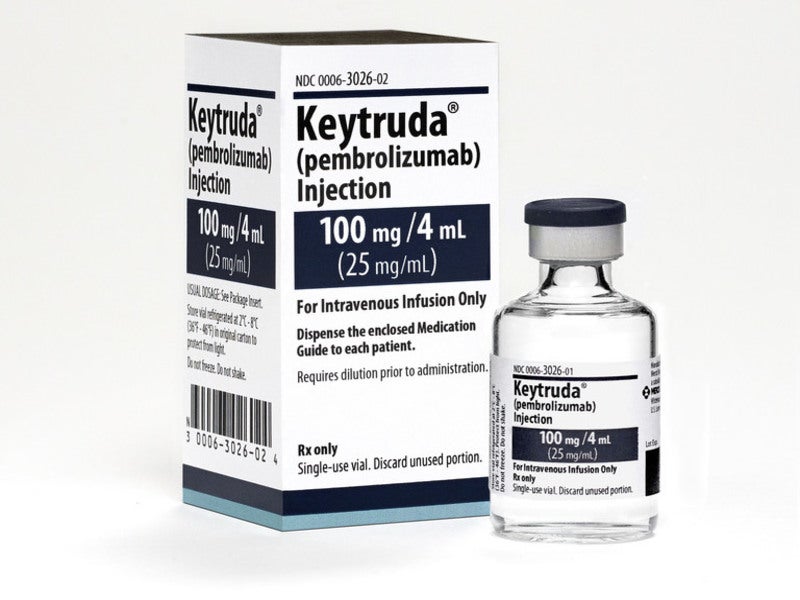 Merck has received US Food and Drug Administration (FDA) approval for its anti-PD-1 therapy Keytruda to treat advanced renal cell carcinoma (RCC) patients.
The approval allows the drug to be used in combination with Pfizer's tyrosine kinase inhibitor Inlyta (axitinib) as a first-line therapy.
Keytruda is a humanised monoclonal antibody (mAb) designed to prevent the interaction between programmed cell death protein 1 (PD-1) and its programmed death-ligand 1 (PD-L1) and PD-L2 ligands. It also activates T lymphocytes.
The FDA's decision is based on results from the Phase III KEYNOTE-426 clinical trial that compared Keytruda-axitinib combination to sunitinib in a total of 861 previously untreated patients.
The combination of Merck's drug and Pfizer's Inlyta was found to cause statistically significant improvements in overall survival (OS), progression-free survival (PFS) and objective response rate (ORR).
Data showed a 47% decrease in the risk of death and a 31% reduction in the risk of progression of disease or death in the combination arm, compared to sunitinib.
"This represents a new treatment option for patients with advanced renal cell carcinoma."
The ORR was 59% with the Keytruda-axitinib combination and 36% in subjects treated with sunitinib.
Merck Research Laboratories clinical research vice-president Scot Ebbinghaus said: "This represents a new treatment option for patients with advanced renal cell carcinoma, who will now have access to KEYTRUDA as part of a first-line combination regimen.
"Today's approval reflects Merck's commitment to patients with cancer and further supports the use of Keytruda to help improve survival outcomes for patients with advanced renal cell carcinoma."
The company warned that Keytruda could lead to immune-mediated adverse reactions such as pneumonitis and hepatitis, as well as infusion-related reactions.
Keytruda is one of the company's lead candidates and is being studied in more than 950 trials in multiple cancer indications and various treatment settings.
Recently, the combination of Keytruda plus chemotherapy (carboplatin and either paclitaxel or nab-paclitaxel) secured European approval for metastatic squamous non-small cell lung cancer (NSCLC).
The latest US regulatory approval for Keytruda's kidney cancer indication is expected to provide competition for Bristol-Myers Squibb's Opdivo and Yervoy combination, which is indicated for untreated advanced kidney cancer patients.