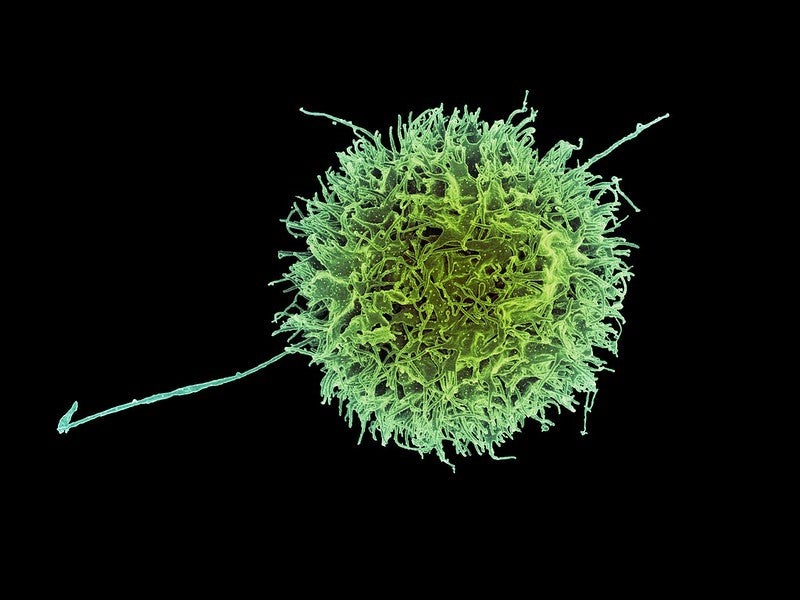 Merck (MSD) has partnered with Dragonfly Therapeutics for the discovery, development and commercialisation of drug candidates across oncology, infectious disease and immune disorder indications.
The alliance will leverage Dragonfly's TriNKET platform with a focus on the company's natural killer (NK) cell engager immunotherapy candidates.
TriNKET technology attaches to receptors on cancer and NK cells, stimulates these immune cells to be aware of cancer, kill the cancer cell and notify other immune cells to attack cancer.
Dragonfly Therapeutics co-founder and CEO Bill Haney said: "Merck is a world leader in drug development across a wide number of therapeutic areas, has a demonstrated history of delivering breakthrough treatment options for patients and has been a fantastic partner for us over the past several years.
"We're excited to expand our work with Merck beyond cancer into infectious disease and immune disorders, where we believe our novel NK-cell engager therapies may have strong advantages as drug candidates."
As part of the deal, Dragonfly will provide Merck, through a subsidiary, an option to licence exclusive global rights to several candidates created using TriNKET platform for various new targets.
Merck will make a payment of around $47.5m, including an upfront cash payment and an equity investment in Dragonfly.
Dragonfly is also eligible for additional payments upon achieving development, regulatory and sales milestones, along with sales royalties for approved products.
Merck Research Laboratories Discovery and Translational Medicine senior vice-president Dr Dean Li said: "We are pleased with the progress made to date working with our colleagues at DragonFly and look forward to expanding our work to include additional therapeutic candidates."
In November, Dragonfly entered into a multi-target collaboration with AbbVie to advance immunotherapies based on its TriNKET technology for autoimmune and oncology indications.