Merck (MSD outside North America) has entered a partnership agreement with Orna Therapeutics for discovering, developing and marketing various programmes based on next-generation RNA technology.
These programmes will include therapies and vaccines in infectious disease and oncology areas.
By self-circularisation, Orna's oRNA technology makes circular ribonucleic acids (oRNAs) from linear RNAs.
oRNA molecules have been demonstrated to possess increased stability in vivo compared to linear mRNA and can potentially create more quantities of therapeutic proteins within the body. 
These molecules synthesised newly are packaged densely into custom lipid nanoparticles (LNPs), which Orna has made to act on the body's crucial tissues.
Preclinical data showed the potential of oRNA expression and delivery as a method for advanced development in various areas, including vaccines and oncology treatments.
According to the deal, Orna is eligible to receive an upfront payment of $150m from Merck.
Furthermore, Orna is entitled to receive development, regulatory and sales-based milestone payments totalling up to $3.5bn on advancing various vaccine and therapeutic programmes.
Merck will also make royalty payments on any approved products developed out of the partnership.
The rights to the oRNA-LNP technology platform of Orna will be retained by the company, which will also progress various other fully owned programmes in oncology and genetic disease areas.
In addition, Merck will make a $100m equity investment in Orna's Series B funding round concluded recently.
Merck Research Laboratories discovery, preclinical and translational medicine senior vice-president and head Fiona Marshall said: "This broad strategic collaboration brings together Merck's significant expertise in nucleic acid biology, clinical development, and manufacturing with Orna's compelling circular RNA technology to explore the opportunity to develop a new generation of potential vaccines and therapeutics.
"We look forward to working with the talented scientific and technical teams at Orna."
The latest development comes after the company and Cerevance signed a multi-year strategic research collaboration to discover new targets for Alzheimer's disease.
Cell & Gene Therapy coverage on Pharmaceutical Technology is supported by Cytiva.
Editorial content is independently produced and follows the highest standards of journalistic integrity. Topic sponsors are not involved in the creation of editorial content.
Free Whitepaper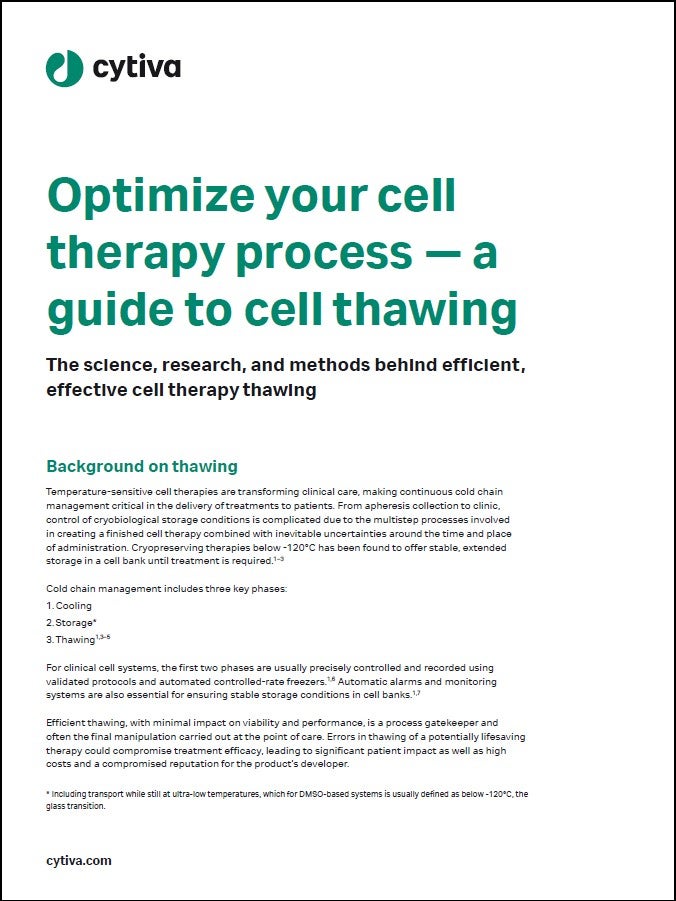 Optimise your cell therapy process: a guide to cell thawing
Typically carried out at the point of care, errors in cell therapy thawing could compromise treatment efficacy, leading to significant patient impact as well as high costs and a compromised reputation for the product's developer. This guide addresses how cell thawing has historically developed into the new techniques used today, along with the physical and biological implications of key metrics and components such as warming rate and ice structure. Also included are reviews of key studies from scientific literature and a consideration of the interactions between cooling and warming rates, as applicable to cell and gene therapies.
by Cytiva Thematic
By clicking the Download Free Whitepaper button, you accept the terms and conditions and acknowledge that your data will be used as described in the Cytiva Thematic privacy policy By downloading this Whitepaper, you acknowledge that we may share your information with our white paper partners/sponsors who may contact you directly with information on their products and services.

Visit our privacy policy for more information about our services, how we may use, process and share your personal data, including information on your rights in respect of your personal data and how you can unsubscribe from future marketing communications. Our services are intended for corporate subscribers and you warrant that the email address submitted is your corporate email address.