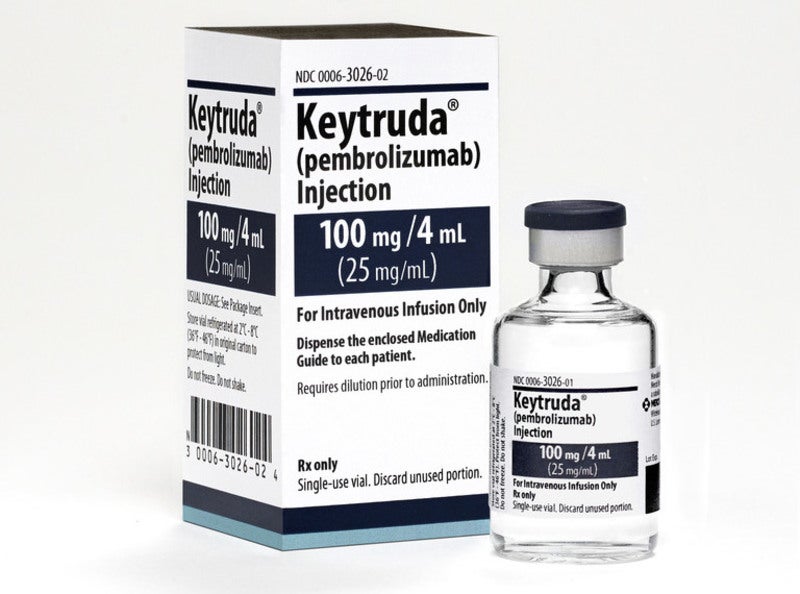 The US Food and Drug Administration (FDA) has approved two indications for Merck's Keytruda, expanding its application to the oncology market.
This humanised monoclonal antibody (mAb) can now be used as a monotherapy in patients with programmed cell death protein 1 (PD-1) expressing tumours, or in combination with platinum and fluorouracil (FU) as first-line treatment of metastatic / unresectable recurrent head and neck squamous cell carcinoma (HNSCC).
The drug is designed to block the interaction between PD-1 and its PD-L1 and PD-L2 ligands to trigger T-lymphocytes, which may affect both tumourous and healthy cells. It holds approvals in multiple tumour types, including melanoma, classical Hodgkin lymphoma and gastric, cervical and lung cancers.
The drug received initial approval for recurrent or metastatic HNSCC patients that progressed on or after platinum-containing chemotherapy in 2016.
This latest approval is based on data from the pivotal Phase III KEYNOTE-048 clinical trial in 882 subjects with metastatic HNSCC that did not receive prior systemic therapy and were considered incurable by local treatments.
Keytruda led to a significant improvement in overall survival (OS) when compared to the cetuximab plus carboplatin or cisplatin plus FU combination, as well as when used as a monotherapy in patients with PD-L1 expressing tumours and in combination with chemotherapy in the total study population.
During the trial, Merck's drug was discontinued due to adverse reactions (AR) in 12% of participants in the monotherapy arm. The most common adverse reactions that led to permanent discontinuation were sepsis and pneumonia.
In the combination, the drug was discontinued for ARs in 16% of subjects, with the most common resulting in permanent discontinuation being pneumonia, pneumonitis and septic shock.
Merck Research Laboratories clinical research vice-president Dr Jonathan Cheng said: "The results of KEYNOTE-048, which support this approval, demonstrated that Keytruda monotherapy for patients whose tumours expressed PD-L1 CPS greater than or equal to one and Keytruda in combination with chemotherapy regardless of PD-L1 expression significantly prolonged survival for patients with metastatic or with unresectable, recurrent head and neck squamous cell carcinoma in the first-line setting."
Currently, Keytruda is being studied in more than 1,000 trials across several cancers and treatment settings.