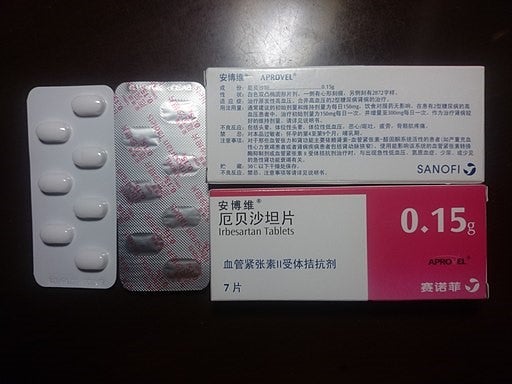 The UK's Medicines and Healthcare Products Regulatory Agency (MHRA) has announced it has recalled three more batches of irbesartan as part of its continued investigation into potential N-nitrosodiethylamine (NDEA) contamination of sartan-containing medicines, which are indicated for high blood pressure and heart attacks.
This follows an international investigation in 2018 into the contamination of the valsartan active substance by N-nitrosodimethylamine (NDMA) at a manufacturing facility in China. The presence of NDEA was also discovered after further testing. This led to the recall of batches from Dexcel, Actavis, Mylan and Teva.
The regulator extended its investigation to irbesartan-based products and recalled batches supplied by Actavis and Macleods Pharma UK in January 2019.
The MHRA told healthcare professionals and wholesalers to stop supplying the recalled batches immediately and return this stock to the supplier, but said they should advise patients to continue taking the medication because there is a greater health risk from discontinuation than the potential risk from the contaminant.
MHRA director of inspection, enforcement and standards division Dr Sam Atkinson said: "Today's Irbesartan recall shows we are continuing to investigate potential contamination of sartan containing medicines.
"There is no evidence at present that medicines containing NDMA or NDEA have caused any harm to patients the recall is occurring as a precaution.
"Because of the risk associated with suddenly stopping high blood pressure medication, continue to take your medicines as prescribed by your doctor."
The UK regulator is continuing to investigate the contamination issue alongside the European Medicines Agency and the European Directorate for the Quality of Medicines.
The US Food and Drug Administration has recalled significant numbers sartan-based products in the past year. Most recently, the regulator recalled Torrent Pharmaceuticals' iosartan potassium tablets and Prinston Pharmaceuticals' irbesartan tablets as a result of the detection of NDEA.