Moderna has submitted an application to the US Food and Drug Administration (FDA) to obtain emergency use authorization (EUA) for mRNA-1273.222, its BA.4/BA.5 Omicron-targeting bivalent booster vaccine for Covid-19.
The submission is made for a 50µg booster dose of the vaccine for usage in adults aged 18 years and above.
mRNA-1273.222 acts on the SARS-CoV-2 virus' initial strain and the Omicron's subvariants BA.4/BA.5.
The company filed the EUA application based on preclinical findings and results obtained from a Phase II/III clinical trial of mRNA-1273.214, a bivalent booster candidate targeting the subvariant Omicron BA.1.
According to the findings, the trial of mRNA-1273.214 met all primary endpoints.
As against a 50µg booster dose of mRNA-1273 in priorly uninfected subjects, mRNA-1273.214 demonstrated superior neutralising antibody response against Omicron BA.1 subvariant.
Irrespective of previous infection or age, the vaccine also showed neutralising antibody responses against the BA.4 and BA.5 Omicron subvariants versus the booster dose of mRNA-1273 authorised currently.
The mRNA-1273.222 vaccine was developed by Moderna in line with the guidance from the regulatory agency for developing a bivalent shot targeting BA.4/BA.5.
At present, a Phase II/III trial of mRNA-1273.222 is progressing.
The company has quickly scaled up the vaccine production to prepare for supply in September on obtaining an authorisation.
Moderna CEO Stéphane Bancel said: "We have worked closely with the FDA to ensure that Americans will have access to Moderna's updated, bivalent booster, which, if authorised, may offer higher, broader and more durable protection against Covid-19 compared to the currently authorised booster
"Moderna's mRNA platform has enabled us to develop, study, and deploy bivalent booster vaccine candidates that demonstrate superior protection against all tested Covid variants in record time."
The latest development comes after the UK Medicines and Healthcare products Regulatory Agency (MHRA) granted conditional authorisation for mRNA-1273.214 in adults aged 18 years and above.
Cell & Gene Therapy coverage on Pharmaceutical Technology is supported by Cytiva.
Editorial content is independently produced and follows the highest standards of journalistic integrity. Topic sponsors are not involved in the creation of editorial content.
Free Whitepaper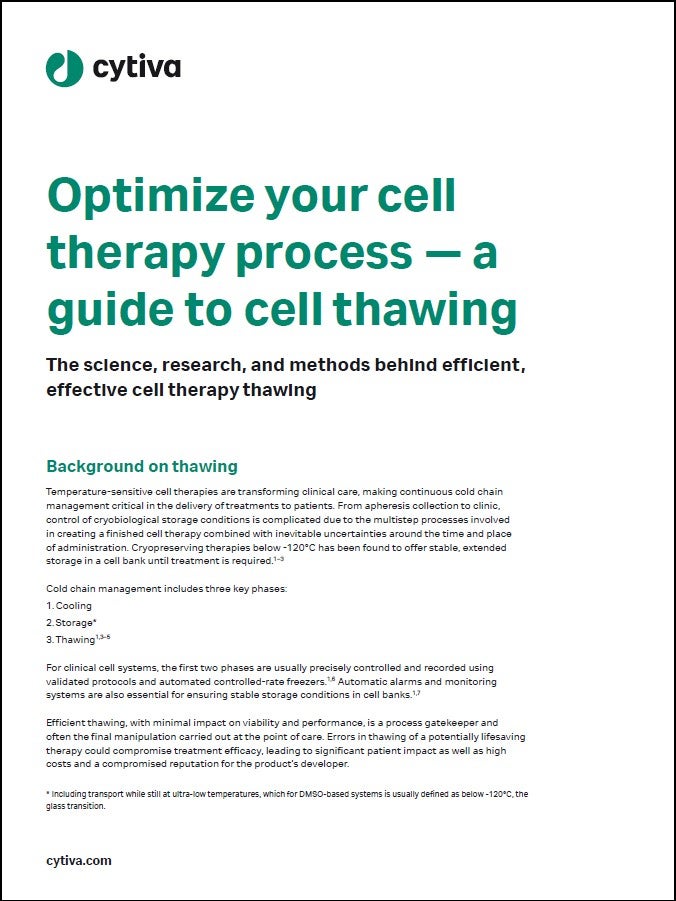 Optimise your cell therapy process: a guide to cell thawing
Typically carried out at the point of care, errors in cell therapy thawing could compromise treatment efficacy, leading to significant patient impact as well as high costs and a compromised reputation for the product's developer. This guide addresses how cell thawing has historically developed into the new techniques used today, along with the physical and biological implications of key metrics and components such as warming rate and ice structure. Also included are reviews of key studies from scientific literature and a consideration of the interactions between cooling and warming rates, as applicable to cell and gene therapies.
by Cytiva Thematic
By clicking the Download Free Whitepaper button, you accept the terms and conditions and acknowledge that your data will be used as described in the Cytiva Thematic privacy policy By downloading this Whitepaper, you acknowledge that we may share your information with our white paper partners/sponsors who may contact you directly with information on their products and services.

Visit our privacy policy for more information about our services, how we may use, process and share your personal data, including information on your rights in respect of your personal data and how you can unsubscribe from future marketing communications. Our services are intended for corporate subscribers and you warrant that the email address submitted is your corporate email address.