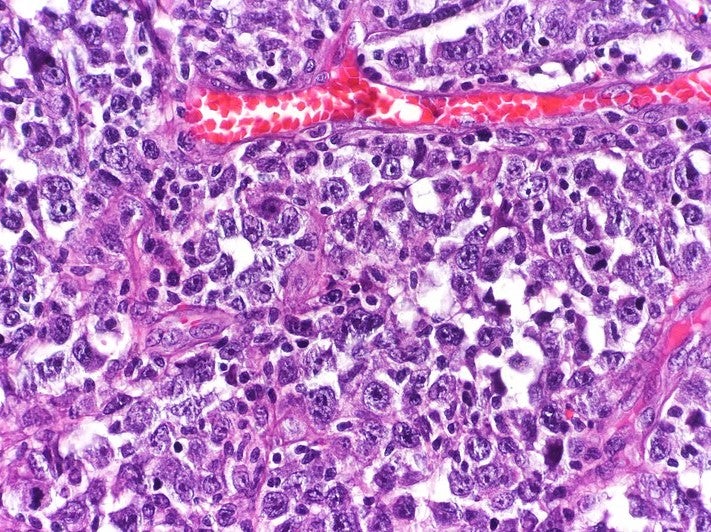 Germany-based MorphoSys has announced it has signed a collaboration and license agreement with the US company Incyte to continue the global development and commercialisation of the former's tafasitamab (MOR208) for B-cell malignancies.
According to the terms of the deal, MorphoSys will receive a $750m upfront payment and a $150m equity investment in new American Depository Shares at a premium share price from Incyte.
In addition, the German company will eligible to receive milestone payments of up $1.1bn, as well as tiered royalties on non-US net sales of tafasitamab.
The companies will co-commercialise tafasitamab in the US and share profits and losses equally, however MorphoSys will lead the commercialisation strategy. Outside of the US, Incyte will have exclusive commercialisation rights over the drug.
Focusing on development, Incyte will be responsible for 55% of associated costs, while MorphoSys will foot the remaining 45% of the development bill.
Tafasitamab is a humanised monoclonal antibody targeting CD19, an antigen expressed on the surface of B cells and so involved in B cell malignancies. MorphoSys submitted a biologics license application for the drug to the US Food and Drug Administration, and is expecting the drug to be approved in relapsed or refractory diffuse large B cell lymphoma (DLBCL) this year.
The companies have agreed to continue focus drug's development in the DLBCL space, but also study its efficacy and safety in CLL, follicular lymphoma (FL) and marginal zone lymphoma (MZL).
Incyte will cover 100% of future development costs outside of the US and will be responsible for all new FL and MZL studies, as well as studies that combine tafasitamab with its P13k-delta inhibitor parsaclisib (INCB50465). While MorphoSys will continue to be solely responsible for ongoing studies in non-Hodgkin lymphoma, CLL and relapsed or refractory and frontline DLBCL.
MorphoSys CEO Jean-Paul Kress said: "The global partnership with Incyte is an important step towards unlocking the full potential of tafasitamab and achieving our goal of rapidly bringing tafasitamab to patients inside and outside of the US.
Incyte CEO Hervé Hoppenot echoed this sentiment, saying: "Bringing together Incyte's expertise and MorphoSys' commitment to innovation will allow us to make tafasitamab widely available to patients with cancer, upon approval.
"We look forward to collaborating closely with the team at MorphoSys and adding tafasitamab to our portfolio of oncology candidates as part of our commitment to bringing new, advanced treatment options to patients and the clinical community around the world."
The licensing agreement is still subject to clearance by the US, German and Austrian antitrust authorities.