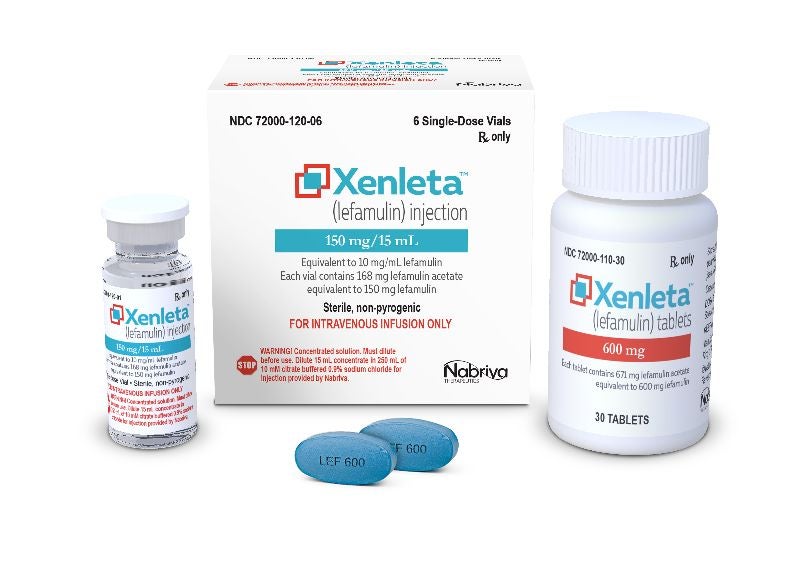 Nabriva Therapeutics has received US regulatory approval for Xenleta (lefamulin) to treat adults with community-acquired bacterial pneumonia (CABP).
The US Food and Drug Administration (FDA) approved both oral and intravenous (IV) formulations of the drug, a first-in-class pleuromutilin antibiotic.
Xenleta blocks the synthesis of bacterial protein needed for growth, targeting a different binding site than existing classes.
Nabriva Therapeutics CEO Ted Schroeder said: "Today's approval of Xenleta is a significant breakthrough in the collective fight against the growing threat of antimicrobial resistance and provides a desperately needed IV and oral empiric monotherapy treatment option for adults with CABP.
"Xenleta has a mechanism of action that is different than other approved antibiotics, resulting in a low propensity for the development of resistance, as well as a lack of cross-resistance with the beta-lactam, fluoroquinolone, glycopeptide, macrolide and tetracycline antibiotic classes."
Schroeder added that the therapeutic possesses an in-vitro spectrum of activity specific to the most common CABP-related gram-positive, gram-negative and atypical pathogens.
The FDA approval is based on findings from two clinical studies, LEAP 1 and LEAP 2, which assessed Nabriva's drug in a total of 1,289 patients, compared to the antibiotic moxifloxacin with or without linezolid.
Trial data revealed similar clinical success rates across all the treatment arms. Furthermore, Xenleta was generally well-tolerated in both the trials.
The most common adverse reactions observed in the Xenleta group included nausea, diarrhoea, reactions at the injection site, vomiting and increased liver enzymes.
Nabriva's drug, which is available as a five-to seven-day course, is set to be commercially launched next month. The oral formulation's wholesale acquisition (WAC) price is $275 per day, while the IV formulation is priced at $205 per day.