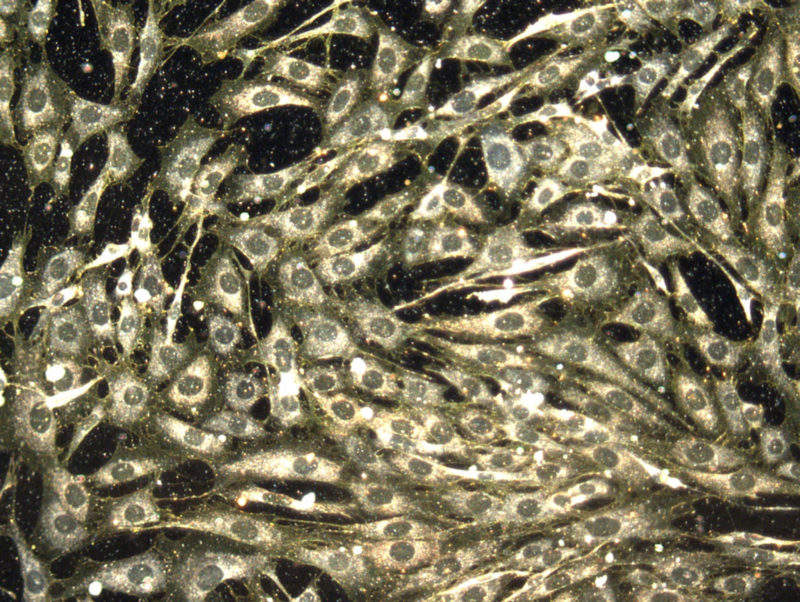 Researchers from the University of Lincoln, UK, have developed the technique of coating gold nanoparticles with a protein so that a nanoparticle can hold a drug on its surface and more accurately target an area in the body, such as a cancer tumour.
The method also has the potential to be applied to biosensors and diagnostic kits that use gold, such as those used in clinical settings to identify ongoing infections in patients' blood.
Gold nanoparticles, which are spheres made of gold atoms measuring a few billionths of a metre, are already used in some applications, such as pregnancy tests. Drugs which could become insoluble or unstable if administered in the bloodstream can be bound to the surface of gold nanoparticles and still be allowed through membranes to their target area because of their small size.
However, they have not always been effective for drug delivery because the current process for coating nanoparticles requires proteins to be mixed with other particles that are not able to control the way they bind.
The new method allows pharmacologists to layer the proteins onto the gold nanoparticles in a specific order, maintaining the integrity of the protein so that the drug keeps hold of its payload more effectively.
"Gold nanoparticles are a vital tool in new drug development and drug delivery systems," said University of Lincoln's School of Life Sciences nanobiotechnologist Dr Enrico Ferrari, who led the study.
"We have unlocked the key to binding proteins and molecules so that those drugs will be more effective.
"This method might help to design nanomedicines that do not need extensive chemical modification of a protein drug or a nano-carrier and therefore can be developed more easily and faster."
Ferrari and his team took fragments of proteins from bacteria and flatworms, which when fused together were effective at binding to the gold nanoparticle surface and able to form stable bonds to any other protein.
They found that mixing the fused proteins with gold nanoparticles permanently bound it to the gold surface while being stable enough to bind a target protein.
The researchers believe the method will work for most proteins, making nanomedicine a more attractive prospect for pharmaceutical companies.
The findings were published in the journal Nature Communications.