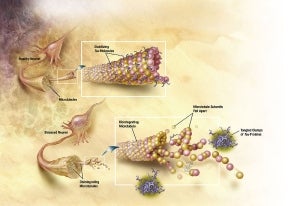 Baxter International is to begin a second Phase III clinical trial on its Gammagard liquid intravenous drug for the treatment of mild to moderate Alzheimer's disease.
The trial, which will involve 400 patients from North America, Europe, Japan and Australia, will asses the safety and effectiveness of the drug as a potential treatment for the signs and symptoms of the neurological condition.
Ludwig Hantson, president of Baxter's bioscience business said the treatment will bring new hope to Alzheimer's patients who have limited treatment options. "If successful, Baxter's Phase III trials will support a regulatory filing for use of immunoglobulin therapy in the treatment of Alzheimer's disease," he said.
The global study is identical to the first Phase III trial and is expected to take three years to complete. Enrolment in the first Phase III trial was completed in June 2011 and the study's data safety monitoring board (DSMB) recently completed a futility analysis – an early analysis to determine if the trial should continue.
Professor Hartmut Ehrlich, vice-president of global research at Baxter's bioscience business said, "After reviewing the futility analysis, the DSMB stated the ongoing GAP study could continue without modification. We look forward to seeing the final data in 2013 regarding the trial's endpoints, specifically whether Gammagard liquid 10% will be a viable option for the treatment of this disease."
Caption: In Alzheimer's disease, changes in the tau protein lead to the disintegration of microtubules in brain cells.