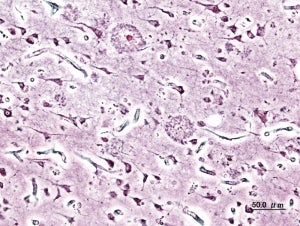 An existing skin cancer drug has been proven to dramatically decrease amyloid-beta, a protein associated with Alzheimer's disease, in the brains of mice.
The drug, bexarotene, was found by researchers in the US to clear the protein, the main component of destructive amyloid plaques, within hours. It stimulated the rapid reversal of cognitive, social and olfactory deficits and improved neural circuit function.
All brains produce amyloid-beta protein, but the brain of a person with Alzheimer's can't efficiently remove the protein fragments, resulting in impaired learning and memory loss.
One of the earliest known impairments caused by Alzheimer's disease – loss of sense of smell – can also be restored by removing a plaque-forming protein in mice, according to a study led by the Case Western Reserve University School of Medicine in Cleveland Ohio.
Assistant professor of neuroscience at the university Daniel Wesson said, "The evidence indicates we can use the sense of smell to determine if someone may get Alzheimer's disease, and use changes in sense of smell to begin treatments, instead of waiting until someone has issues learning and remembering."
Bexarotene is sold under the name Targretin in the US and owned and marketed by Japan's Eisai Co. Patents of the drug, however, will expire next year, which may prevent drug companies from seeking approval for the drug as a possible Alzheimer's treatment, reports the Wall Street Journal.
Specialists said the results of the study were promising, but warned that successful drugs in mice often failed to work in people.
Photo: Senile plaques seen in the cerebral cortex of a person with Alzheimer's disease. Silver impregnation. Image: KGH