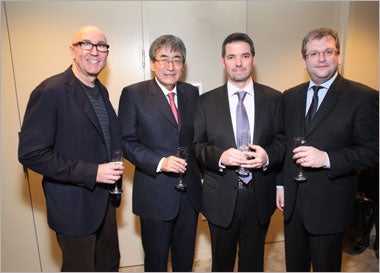 JJapanese pharmaceutical company Eisai has opened a new facility in Massachusetts, US, to house its H3 Biomedicine unit.
The company has pledged that it will invest $200m into research funding at the centre, and intends to recruit a team of 70 to research innovative cancer treatments.
The facility will undertake the development of drugs designed to treat challenging cancers through advances in synthetic organic chemistry, with the overall aim of creating breakthrough drugs that are more precise and efficacious than existing therapies.
The unit will focus research into two main principles; identifying drug targets that define the root cause of the cancer and using synthetic organic chemistry to develop a library of compounds, used to develop novel small-molecule drugs against cancers previously thought of as 'undruggable'.
H3 Biomedicine was originally established in December 2010 as a subsidiary of Eisai.
Caption: The opening of Eisai's new facility in Cambridge, Massachusetts, US.