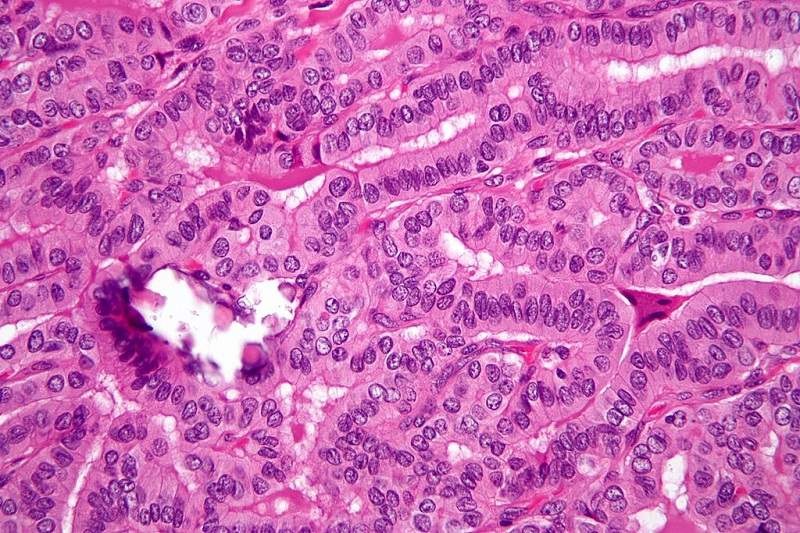 The National Institute for Health and Care Excellence (NICE) has issued its final appraisal decision recommending Lenvima (lenvatinib) for the treatment of differentiated thyroid carcinoma.
The recommendation means that the drug can now be offered routinely by NHS England to treat differentiated thyroid cancer that has spread to other parts of the body after surgery or radioactive iodine therapy. It comes after the European Medicines Agency (EMA) approved lenvatinib for use almost three years ago.
Lenvima, which is manufactured by Japanese pharmaceutical company Eisai, was shown to significantly improve progression-free survival by 14.7 months compared with placebo in patients with differentiated thyroid cancer that did not respond to radioactive iodine therapy. It received Breakthrough Therapy Designation from the US Food and Drug Administration in January 2018.
The drug works by blocking certain proteins in cancer cells in order to shrink tumours.
In October 2017, NICE published draft guidelines rejecting funding for Lenvima after deciding that the drug was not cost-effective. Lenvima costs around £35,000 per patient for a year's supply but Eisai offered commercially confidential discounts.
The drug was approved for reimbursement by the Scottish Medicines Consortium in October 2016 and was approved by the All Wales Medicines Strategy Group in October 2017.
"After almost three years of being licensed in the EU, I am really very pleased that NICE is finally recommending the use of lenvatinib so that patients with this form of thyroid cancer will at last have access to it in England. While patients in Scotland and Wales had access to lenvatinib much sooner─2016 and 2017 respectively─it's a real shame that due to a poor process that patients in England have had to wait much longer," said chief commercial officer of the Oncology Business Group at Eisai Gary Hendler.
NICE has also recommended Cometriq made by Ipsen and Nexavar made by Bayer, also for the treatment of thyroid cancer.
Thyroid cancer is the fastest growing cancer diagnosis in the UK with 3,400 cases of newly diagnosed thyroid cancer each year. Differentiated thyroid cancer is the most common type of thyroid cancer.
Acting director of the NICE centre for health technology evaluation Mirella Marlow said: "Treatment options for these types of thyroid cancer are limited, so it is important that we are able to give patients much needed access to alternatives to best supportive care at this stage of their disease. These drugs will give patients extra time, as well as improving their quality of life."