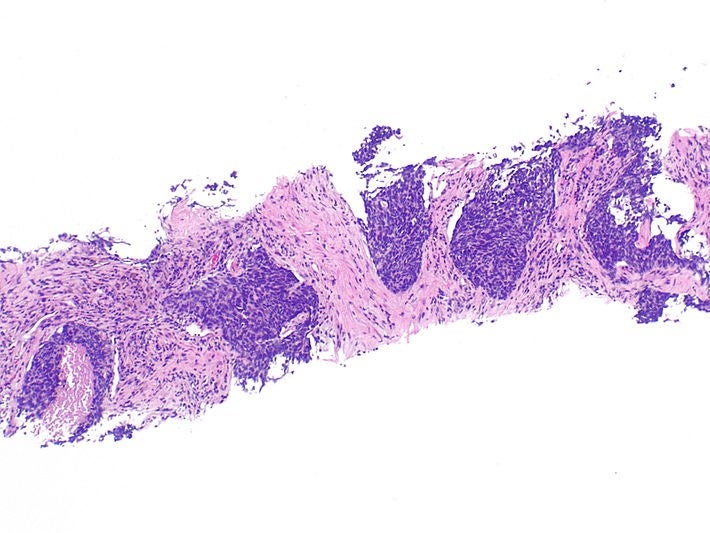 The UK's National Institute of Health and Care Excellence (NICE) has published its final guidance for AstraZeneca's Imfinzi (durvalumab), in which it recommends the immunotherapy for use by the NHS through the Cancer Drugs Fund.
As a result, Imfinzi will be immediately available for non-small cell lung cancer (NSCLC) patients, where PD-L1 is expressed on at least 1% of tumour cells and whose disease has not progressed after at least two cycles of platinum-based chemoradiation therapy.
In the PACIFIC trial, the results of which led to Imfinzi's approval for the same indication by the US Food and Drug Administration in 2018, the drug caused an average progression free survival (PFS) of 23.9 months, compared to 5.6 months for the placebo. Imfinzi also lengthened overall survival.
The duration of long-term treatment effect of Imfinzi was unclear from this trial alone. However, NICE decided to approve it under the Cancer Drug Fund because there are currently no treatments available to the NHS to delay or prevent disease progression after chemoradiation and the company is undertaking further clinical studies with current plans to announce results in 2021.
AstraZeneca's pricing of the drug was deemed cost-effective for NHS. The list price was £592 per 120mg dose and £2,466 per 500mg, but the company had agreed a commercial arrangement with the NHS. This brought the price below NICE's maximum of £30,000 per quality adjusted life year (QALY) gained as a result of treatment.
NICE Centre for Health Technology Evaluation director Meindert Boysen said: "The Cancer Drugs Fund gives patients faster access to the most promising cancer treatments. We are pleased to make this exciting new option available and look forward to seeing further data on the effectiveness of durvalumab.
"After relatively few developments in the past two decades for people with this type of lung cancer, this decision will be particularly welcome to those with the condition, their families and the healthcare staff and experts working with them."