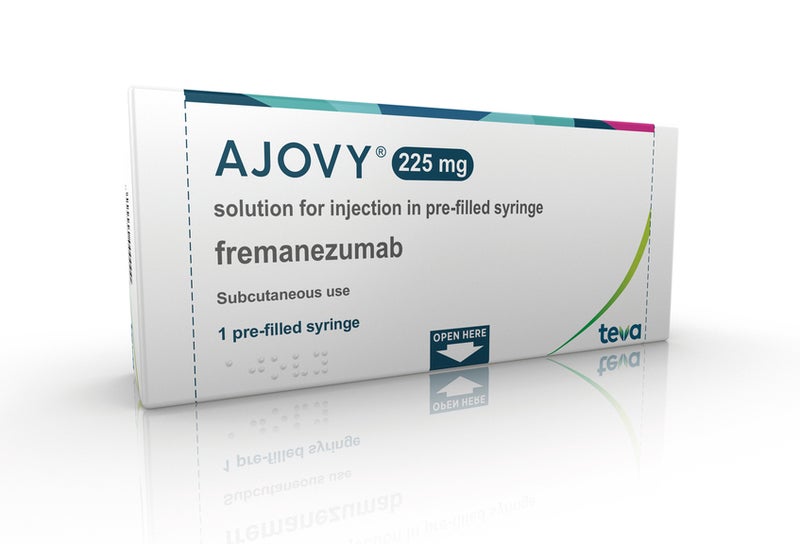 The National Institute for Health and Care Excellence (NICE) in the UK has recommended the use of Teva Pharmaceutical's Ajovy (fremanezumab) to prevent migraine in adults.
The cost-effectiveness watchdog recommended the drug for chronic migraine patients who did not experience a response to a minimum of three preventive medications.
Ajovy is a monoclonal antibody intended to selectively target the calcitonin gene-related peptide (CGRP) pathway linked to migraine. The drug is said to be the first anti-CGRP preventive therapy to secure NICE approval.
Teva European Commercial executive vice-president Richard Daniell said: "This is an important decision to help the lives of migraine patients in England and signifies a recognition of the impact of this disease. Patients' lives and choices are limited by their migraine.
"We are proud that Teva's Ajovy is the first anti-CGRP preventive therapy that NICE has considered to demonstrate cost-effectiveness leading to a reimbursement decision. In time we hope that this treatment becomes available for all adult chronic migraine patients across Europe."
Commonly, migraine is characterised by a moderate-to-severe throbbing headache, which typically comes with nausea and vomiting, along with sensitivity to noise, light and smells.
Data reveals that one in seven adults suffers from migraine, and women are at three times more risk than men. According to Teva, the condition is under-diagnosed and under-treated in at least 50% of patients.
Chronic migraine is when a patient has 15 or more headache days and at least eight migraine days per month for above three months. Approximately 900,000 of adults in the UK are affected by chronic migraine.
NICE's recommendation of Ajovy comes from a dossier submitted for a Single Technology Appraisal (STA). After issuing the Final Appraisal Document (FAD), NICE will deliver its guidance to the NHS in England.
Teva obtained marketing authorisation from the European Commission (EC) for Ajovy in April 2019.