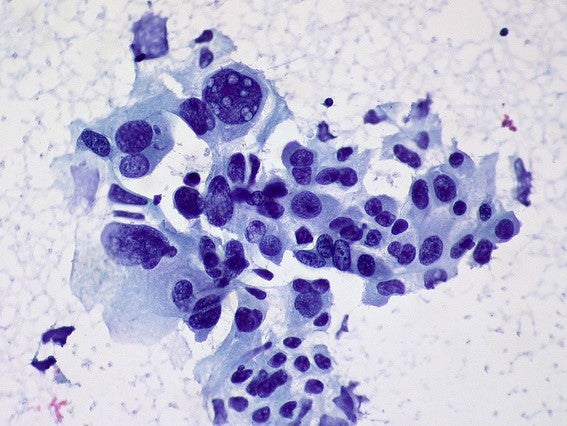 The UK's pricing regulator the National Institute of Health and Care Excellence (NICE) has revised its previous rejection of Takeda's Alunbrig (brigatinib) for adults with anaplastic lymphoma kinase (ALK) positive advanced non-small cell lung cancer (NSCLC) who had previously taken crizotinib.
In its initial appraisal of the drug, which was published in October 2018, NICE decided to not recommend brigatinib because of concerns about Takeda's cost effectiveness estimates and the implausibility of the length of treatment benefit from the therapy.
The regulator reversed this decision in its final appraisal document following negotiations with NHS England, Takeda and the clinical patient community. However, only on the basis that the company provides the drug to the NHS according to a new commercial agreement.
The list price for a pack of 24 180mg tablets of brigatinib is £4,900, meaning the incremental cost-effectiveness ratios from Takeda's base case is more than £50,000 per quality-adjusted life year.
In the final appraisal document, NICE concluded that although "the cost-effectiveness estimates are uncertain, particularly because of whether brigatinib's treatment benefit continues after stopping treatment" and "the most plausible cost-effectiveness estimates for brigatinib compared with ceritinib are around the higher end of what NICE normally considers acceptable for an end-of-life treatment," it could recommend the drug since the eligible population is small and will continue to decrease as crizotinib is no longer first line treatment for ALK-positive NSCLC.
Ceritinib is the treatment currently prescribed following crizotinib, so Takeda had to demonstrate brigatinib was superior to ceritinib.
The company carried out an unanchored indirect treatment comparison based on existing clinical data, which showed patients taking brigatinib lived longer than those taking ceritinib. The brigatinib group also lived longer before their condition worsened than ceritinib patients.
NHS England also concluded that there was likely to be less wastage associated with Takeda's drug than with ceritinib.