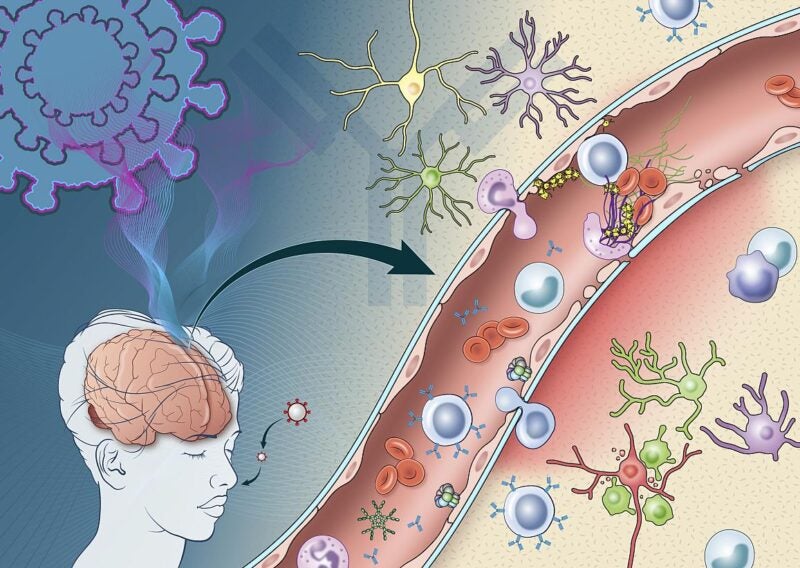 Scientists at the National Institutes of Health (NIH) unit National Institute of Neurological Disorders and Stroke (NINDS) have found that Covid-19-induced immune response could damage the blood vessels of the brain and may lead to short and long-term neurological symptoms. 
NINDS team analysed changes in the brain of nine individuals who died following Covid-19 infection.
The researchers found evidence that antibodies are linked to an attack on the cells lining the blood vessels in the brain, causing inflammation and damage.
SARS-CoV-2 virus was not seen in the brains of the patients supporting a prior study, showing that the virus was not directly infecting the brain.
The researchers also observed that antibodies produced in response to Covid-19 may wrongly act on cells vital to the blood-brain barrier.
The team also found immune complexes deposits on the endothelial cell surface in the brains of Covid-19 patients.
Immune complexes are molecules created when antibodies attach to antigens and could damage tissue by eliciting inflammation.
In prior research, evidence of brain damage due to thinning and leaky blood vessels was reported. This damage could have been caused by the natural inflammatory response of the body to the virus.
The researchers found that damage to endothelial cells was probably caused by an immune response, discovering immune complex deposits on the cell surface.
These findings indicated an antibody-facilitated attack that activates endothelial cells. On activating endothelial cells, they express proteins called adhesion molecules that lead to the sticking of platelets.
Increased levels of adhesion molecules were seen in endothelial cells in the brain tissue samples.
In addition, the team found that over 300 genes had reduced expression in regions with damage to the endothelial cells, while six genes showed evaluated expression.
These genes were linked to deoxyribonucleic acid (DNA) damage, oxidative stress and metabolic dysregulation.
These data could shed light on the molecular basis of neurological symptoms linked to Covid-19 and provide possible treatment targets.
It also indicates that therapies, which can prevent the immune complexes development, could potentially treat post-Covid neurological symptoms.
NINDS clinical director Avindra Nath said: "It is quite possible that this same immune response persists in Long Covid patients resulting in neuronal injury.
"There could be a small indolent immune response that is continuing, which means that immune-modulating therapies might help these patients."