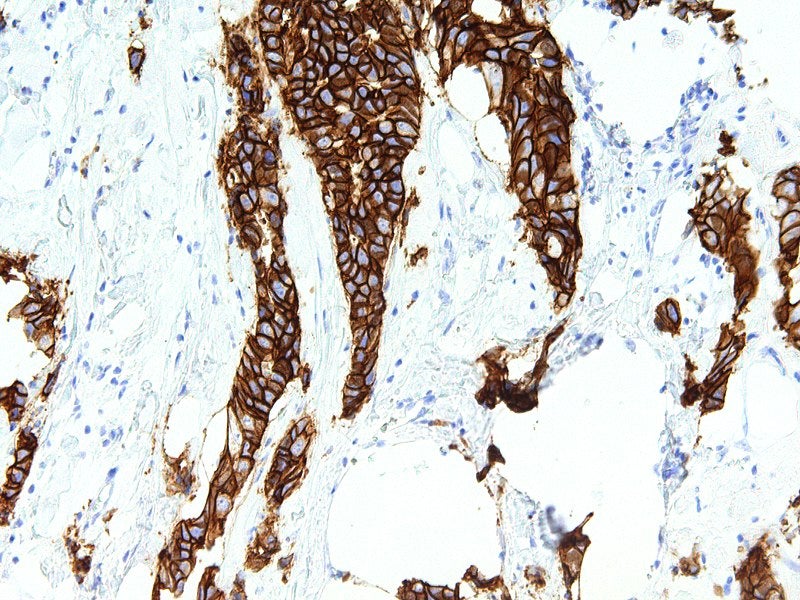 Roche has published data demonstrating non-inferiority of a fixed-dose combination of Perjeta (pertuzumab) and Herceptin (trastuzumab) administered through subcutaneous (SC) injection to standard intravenous (IV) infusions of the two drugs in HER2-positive early breast cancer.
The SC fixed-dose combination of the two drugs combined with IV chemotherapy met its primary endpoint in the global, multicentre Phase III FeDeriCa study of non-inferior levels of Perjeta in the blood.
The SC combination also met two secondary endpoints of non-inferior levels of Herceptin in the blood and comparable pathological complete response. The safety profile between the two administration routes were also similar.
Previous studies have shown that the SC administration route is strongly preferred by patients; it only takes around eight minutes for the initial loading dose and then approximately five minutes per each maintenance dose, compared to 150 minutes for the initial IV infusion and then 60 to 150 minutes for future doses.
Combining Perjeta with IV Herceptin and chemotherapy is approved in more than 100 countries for the treatment of both early and metastatic HER2-positive breast cancer. The two drugs are believed to have complementary mechanisms of action against the HER2 receptor.
Roche chief medical officer and head of global product development Levi Garraway said: "This fixed-dose subcutaneous combination has the potential to provide a quicker and less invasive method of administration for people with HER2-positive breast cancer being treated with Perjeta and Herceptin.
"This is the first time that we have brought together two of our targeted antibodies as a single subcutaneous injection that can be administered in just minutes."
The SC administration approach for Perjeta and Herceptin is developed using Halozyme Therapeutics' Enhanze drug delivery technology; the two companies have been collaborating around the technology since 2006.
The Enhanze platform relies upon a proprietary recombinant human hyaluronidase PH20 enzyme that degrades hyaluronan, which is a chain of natural sugars, to support the dispersion and absorption of injected drugs.