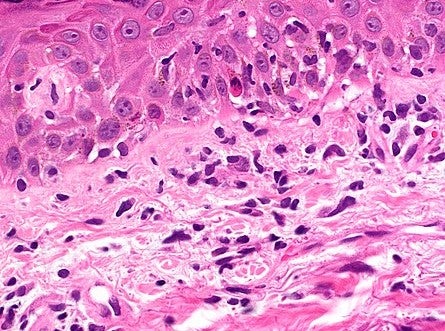 Incyte Corporation has announced promising results for ruxolitinib in the Novartis-sponsored Phase III trial REACH2 of patients with steroid-refractory acute graft-versus-host disease.
Ruxolitinib met its primary endpoint in the trial of superior overall response rate (ORR) on day 28 of treatment, compared to best currently available therapy.
There were also no safety signals for ruxolitinib in REACH2, and the drug's safety and tolerability profile were consistent with previous trials.
Full results for this JAK1 and JAK2 tyrosine kinase inhibitor will be presented at an upcoming medical meeting.
The US Food and Drug Administration (FDA) has already approved ruxolitinib for the same indication – steroid-refractory acute graft-versus-host disease – based on the results of the Phase II REACH1 trial, which had the same day 28 ORR primary endpoint.
The US is the remit of the drug's developers Incyte, which calls the drug Jakafi. Novartis will be responsible for the development or commercialisation of ruxolitinib as Jakavi outside of the US.
Ruxolitinib is also being studied in the Phase III REACH3 study for steroid-refractory chronic graft-versus-host disease.
Novartis chief medical officer and head of global drug development John Tsai said: "As many as half of hematopoietic stem cell transplant recipients develop acute graft-versus-host disease.
"We are delighted that Jakavi showed such promise in this very difficult condition especially since few second-line treatment options exist. These impressive results will be part of our regulatory submissions seeking approval in Europe and other countries."
Incyte group vice-president in targeted therapies Peter Langmuir said: "Graft-versus-host disease is a challenging and serious disease, and physicians around the world need access to therapies that can improve outcomes for patients.
"This positive result of the REACH2 study is excellent news for patients as it further reinforces the potential of ruxolitinib as a treatment option that can provide meaningful results for patients with steroid-refractory acute graft-versus-host disease."
Ruxolitinib is also already been approved globally for a range of haematological indications, such as polycythaemia vera (PV), primary myelofibrosis (MF), post- polycythaemia vera MF or post-essential l thrombocythaemia MF.