Pfizer and BioNTech have filed an application seeking Emergency Use Authorization (EUA) from the US Food and Drug Administration (FDA) for a booster dosage of an Omicron BA.4/BA.5-adapted bivalent vaccine for Covid-19 in people aged 12 years and above.
The submission comes after the regulatory agency provided guidance to incorporate clinical findings of the bivalent Omicron BA.1-adapted vaccine.
The FDA also sought the vaccine's pre-clinical and manufacturing data for addressing the SARS-CoV-2 virus' evolution.
On obtaining the FDA EUA, the Omicron BA.4/BA.5-adapted bivalent vaccine will be made readily available for shipping.
It comprises messenger ribonucleic acid (mRNA) that encodes for the initial spike protein of SARS-CoV-2 along with mRNA that encodes for Omicron BA.4/BA.5 variant spike protein.
According to pre-clinical findings, a booster dose of this vaccine elicited a robust neutralising antibody response against the variants Omicron BA.1, BA.2, BA.4/BA.5 and the wild-type viral strain.
A clinical trial of the vaccine to assess its safety, tolerability and immunogenicity in people aged 12 years and above is anticipated to commence this month.
Pfizer chairman and CEO Albert Bourla said: "The agility of the mRNA platform, together with extensive clinical experience with the Pfizer-BioNTech Covid-19 Vaccine, has allowed us to develop, test and manufacture updated, high-quality vaccines that align to circulating strains with unprecedented speed.
"Having rapidly scaled up production, we are positioned to immediately begin distribution of the bivalent Omicron BA.4/BA.5 boosters, if authorised, to help protect individuals and families as we prepare for potential fall and winter surges."
The companies have also commenced rolling submission for conditional marketing authorization from the European Medicines Agency (EMA) for this Omicron BA.4/BA.5-adapted bivalent vaccine.
In July, the US FDA approved the companies' supplemental Biologics License Application (sBLA) for their Covid-19 vaccine, Comirnaty, for use in adolescents aged 12 to 15 years.
Cell & Gene Therapy coverage on Pharmaceutical Technology is supported by Cytiva.
Editorial content is independently produced and follows the highest standards of journalistic integrity. Topic sponsors are not involved in the creation of editorial content.
Free Whitepaper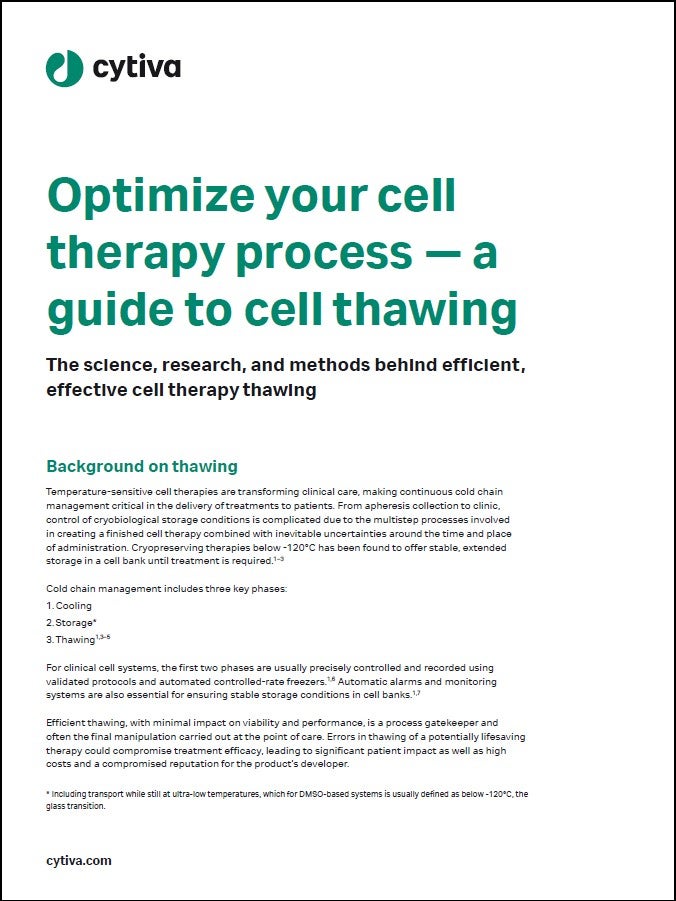 Optimise your cell therapy process: a guide to cell thawing
Typically carried out at the point of care, errors in cell therapy thawing could compromise treatment efficacy, leading to significant patient impact as well as high costs and a compromised reputation for the product's developer. This guide addresses how cell thawing has historically developed into the new techniques used today, along with the physical and biological implications of key metrics and components such as warming rate and ice structure. Also included are reviews of key studies from scientific literature and a consideration of the interactions between cooling and warming rates, as applicable to cell and gene therapies.
by Cytiva Thematic
By clicking the Download Free Whitepaper button, you accept the terms and conditions and acknowledge that your data will be used as described in the Cytiva Thematic privacy policy By downloading this Whitepaper, you acknowledge that we may share your information with our white paper partners/sponsors who may contact you directly with information on their products and services.

Visit our privacy policy for more information about our services, how we may use, process and share your personal data, including information on your rights in respect of your personal data and how you can unsubscribe from future marketing communications. Our services are intended for corporate subscribers and you warrant that the email address submitted is your corporate email address.