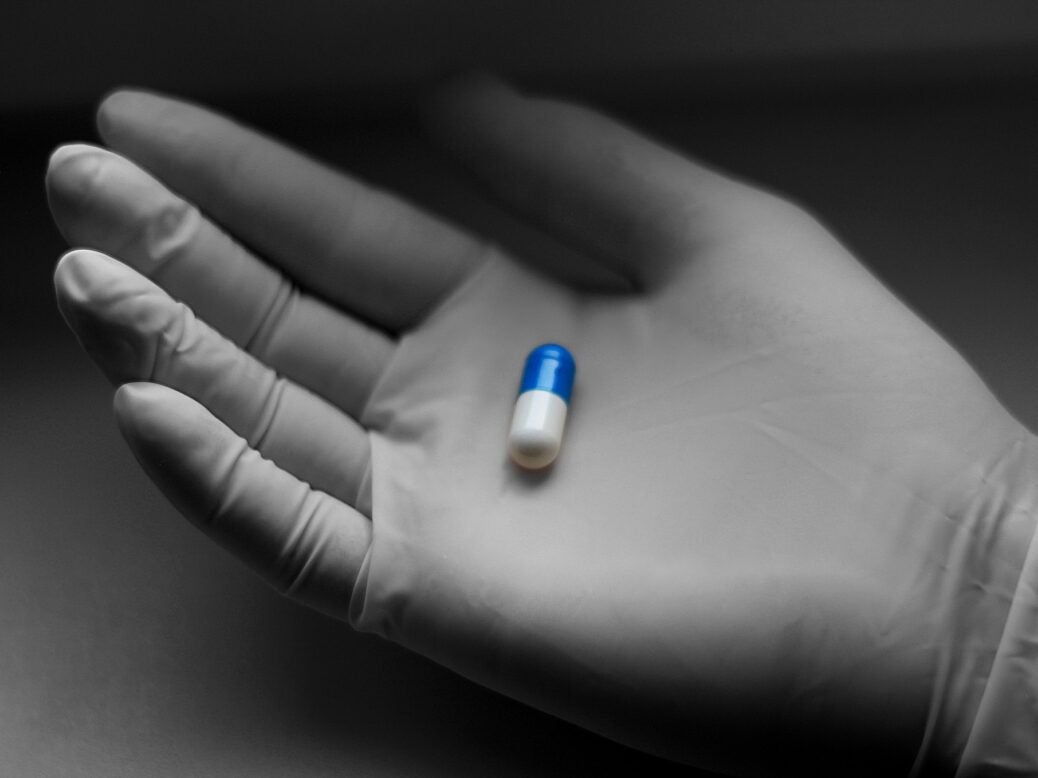 Pfizer has commenced the Phase II/III clinical trial of its new experimental oral antiviral candidate, PF-07321332, co-administered with a low ritonavir dose, for Covid-19 prevention.
Free Case Study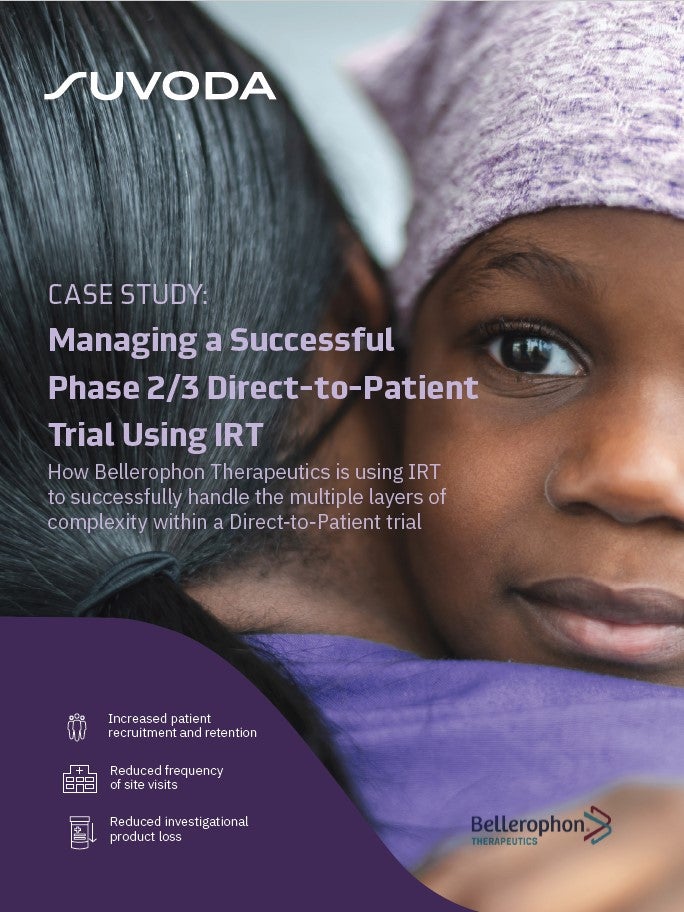 Direct-to-Patient Trials: How IRT Plays an Important Role in Bellerophon's Direct-to-Patient Trials
As the industry strengthens its focus on patient centricity, Direct-to-Patient clinical trials have emerged as a popular trial design that have the potential to increase patient recruitment and retention. IRT plays a crucial role in the success of a Direct-to-Patient trial. Because drug supplies are being managed and shipped from distribution facilities directly to patients' homes, a sponsor must have a high-quality system in place to accurately track the chain of custody, ensure patient-blinding and handle other logistical challenges. What You Will Learn Benefits and challenges associated with the Direct-to-Patient model Bellerophon's top considerations when implementing this trial design How IRT can equip study teams to successfully track chain of custody, ensure patient blinding, and handle logistical challenges
by Suvoda
A SARS-CoV-2-3CL protease inhibitor antiviral drug, PF-07321332 can potentially hinder the activity of the main protease enzyme required by the SARS-CoV-2 for replication.
The Evaluation of Protease Inhibition for Covid-19 in Post-Exposure Prophylaxis (EPIC-PEP) randomised, double-blind, placebo-controlled trial is part of an international clinical research programme.
It will enrol 2,660 healthy adult subjects aged a minimum of 18 years who are living in the same household as a person with a confirmed symptomatic Covid-19.
Subjects will be categorised into a 1:1:1 ratio to receive either orally twice-daily dose of PF-07321332 plus ritonavir or placebo for five to ten days.
The primary aim of the trial is to evaluate the safety and efficacy of the treatment for preventing confirmed Covid-19 infection and its symptoms through day 14.
Pfizer Worldwide Research, Development and Medical president and chief scientific officer Mikael Dolsten said: "If successful, we believe this therapy could help stop the virus early before it has had a chance to replicate extensively, potentially preventing symptomatic disease in those who have been exposed and inhibiting the onset of infection in others.
"Given the continued emergence and evolution of SARS-CoV-2 variants and their immense impact, we continue to work diligently to develop and study new ways that our investigational oral antiviral candidate could potentially lower the impact of Covid-19, not only on patients' lives but also the lives of their families and household members."
In addition to the EPIC-PEP trial, the EPIC programme comprises several ongoing trials.
In March, Pfizer advanced PF-07321332 to a Phase I trial in healthy subjects to analyse its safety, tolerability and pharmacokinetics.
According to Phase I findings, PF-07321332 was found to be safe and well tolerated.
In July, a Phase II/III EPIC-HR trial was launched to assess the efficacy and safety of the experimental therapy plus ritonavir in Covid-19 at an increased risk of severe illness such as hospitalisation or death.
Another Phase II/III EPIC-SR trial, which began last month, is analysing Covid-19 patients who are at standard risk without any risk factors for severe illness.
Earlier this month, Pfizer dosed the first subject in Phase II/III trial of PF-07321332 for Covid-19 in non-hospitalised patients who have symptoms but are at low risk of progression to severe disease.
Separately, Pfizer has dosed first subjects in a Phase I trial of a single dose quadrivalent messenger ribonucleic acid (mRNA) vaccine against influenza in healthy adults aged 65 to 85 years.
The randomised trial in the US will compare the safety, tolerability and immunogenicity of the vaccine to a quadrivalent influenza vaccine already approved by the US Food and Drug Administration (FDA) as control.
Free Case Study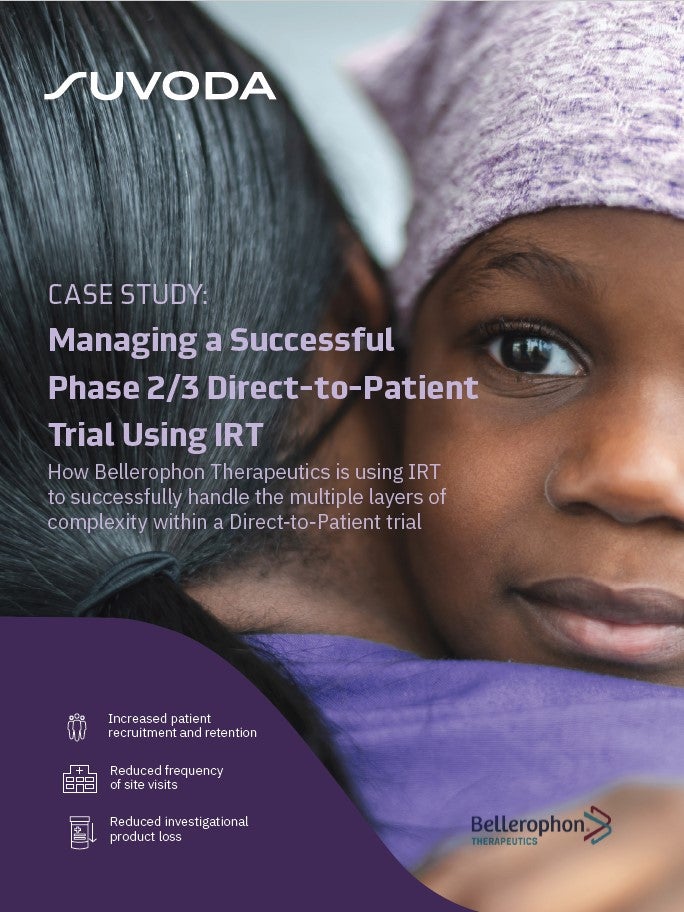 Direct-to-Patient Trials: How IRT Plays an Important Role in Bellerophon's Direct-to-Patient Trials
As the industry strengthens its focus on patient centricity, Direct-to-Patient clinical trials have emerged as a popular trial design that have the potential to increase patient recruitment and retention. IRT plays a crucial role in the success of a Direct-to-Patient trial. Because drug supplies are being managed and shipped from distribution facilities directly to patients' homes, a sponsor must have a high-quality system in place to accurately track the chain of custody, ensure patient-blinding and handle other logistical challenges. What You Will Learn Benefits and challenges associated with the Direct-to-Patient model Bellerophon's top considerations when implementing this trial design How IRT can equip study teams to successfully track chain of custody, ensure patient blinding, and handle logistical challenges
by Suvoda