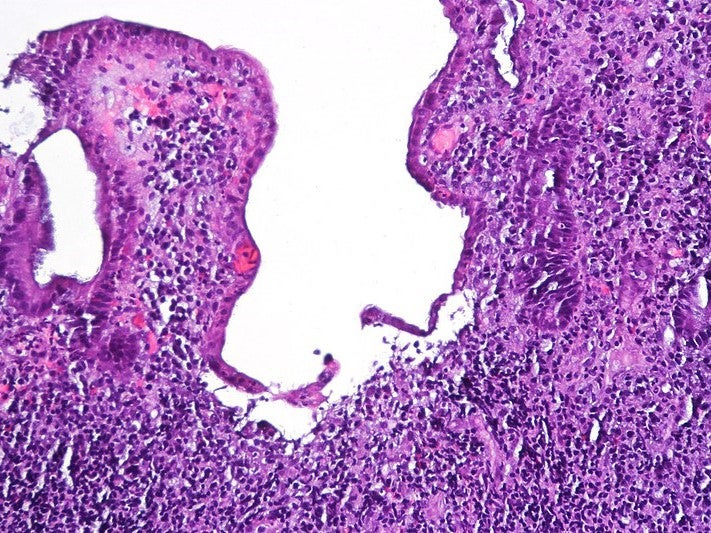 Takeda has announced results from Phase IIIb head-to-head study of two biologic therapies, Entyvio (vedolizumab) and adalimumab, the generic of AbbVie's Humira, in which Entyvio achieved statistically significant clinical remission in patients with moderately to severely active ulcerative colitis at week 52.
Results from the VARSITY study showed that 31.3% of patients receiving intravenous Entyvio achieved the primary endpoint of clinical remission, compared to 22.5% receiving subcutaneous adalimumab.
Entyvio was associated with significantly higher rates of mucosal healing at week 52, as well as lower rates of adverse events, compared to adalimumab.
Takeda executive medical director Jeff Bornstein said: "As the first prospective clinical study to directly compare the efficacy and safety of two commonly used biologic therapies in patients with ulcerative colitis, Varsity provides invaluable knowledge to help inform physicians' treatment decisions when initiating biologic therapy.
"This is also the first time we have seen a direct comparison between two medicines with distinct modes of action in ulcerative colitis, the gut-selective anti-alpha4beta7 integrin vedolizumab and the anti-TNFα adalimumab.
"This is an exciting time in the landscape of ulcerative colitis treatment, as head to-head clinical data has not previously been available to guide treatment decisions around biologic therapies."
The results were announced over the weekend at the 14th Congress of the European Crohn's and Colitis Organisation (ECCO) in Copenhagen, Denmark.
Entyvio is a humanised monoclonal antibody designed to specifically antagonise the alpha4beta7 integrin. This integrin is expressed on circulating white blood cells shown to play a role in ulcerative colitis and Crohn's disease, and so by inhibiting the integrin, Entyvio may limit the ability of these white blood cells to infiltrate gut tissues.
The drug has already been approved for patients with moderate to severe ulcerative colitis and Crohn's Disease who have had an inadequate response, a decline in response or were intolerant to conventional therapy of a tumour necrosis factor-alpha antagonist, such as adalimumab.
Further data for the Phase IIIb VARSITY trial were presented at the 2019 Digestive Disease Week in San Diego, the US.
These results showed 61.7% of patients receiving Entyvio achieved a clinical response, the exploratory index, at week 14, compared to adalimumab. In fact, this trend began to develop in favour of Entyvio at week six.
This data update also showed that Entyvio performed better in terms of absence of active histologic disease as measured by two indexes Geboes Score and Robarts Histopathology Index.
Of the patients receiving Entyvio, 33.4% achieved absence of active histologic disease according to the Geboes Score and 42.3% as measured by the Robarts Index. Whereas only 13.7% and 25.6% given adalimumab achieved the same endpoint according to the Geboes Scorea and Robarts Index respectively.