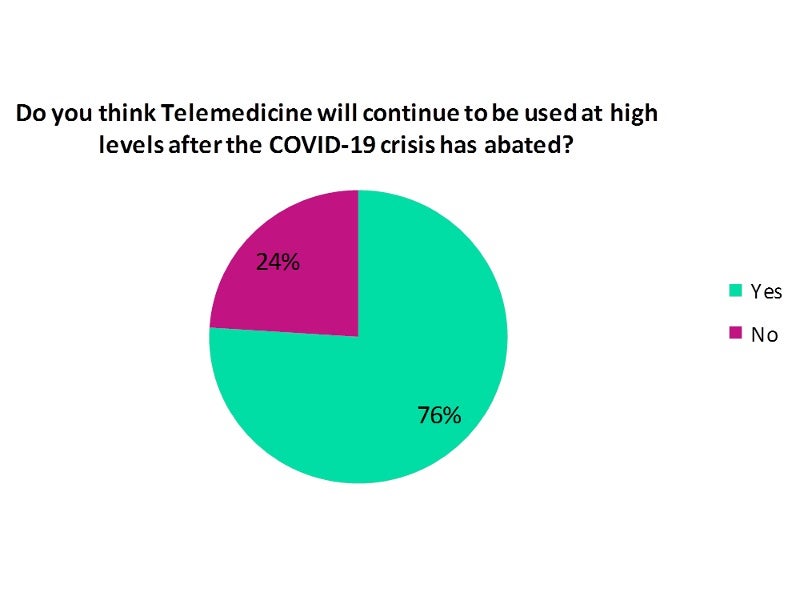 Telemedicine has played an important role in providing remote medical services to patients during the Covid-19 lockdown measures implemented in multiple countries.
Verdict has conducted a poll to assess at what levels telemedicine will be used after the Covid-19 outbreak.
Analysis of the poll results shows that the level of use of telemedicine will be high even after the crisis ends, indicating a positive outlook for the telemedicine market.
A majority 76% of the respondents voted that telemedicine will be continued to be used in high levels after the crisis, while 24% of the respondents voted otherwise.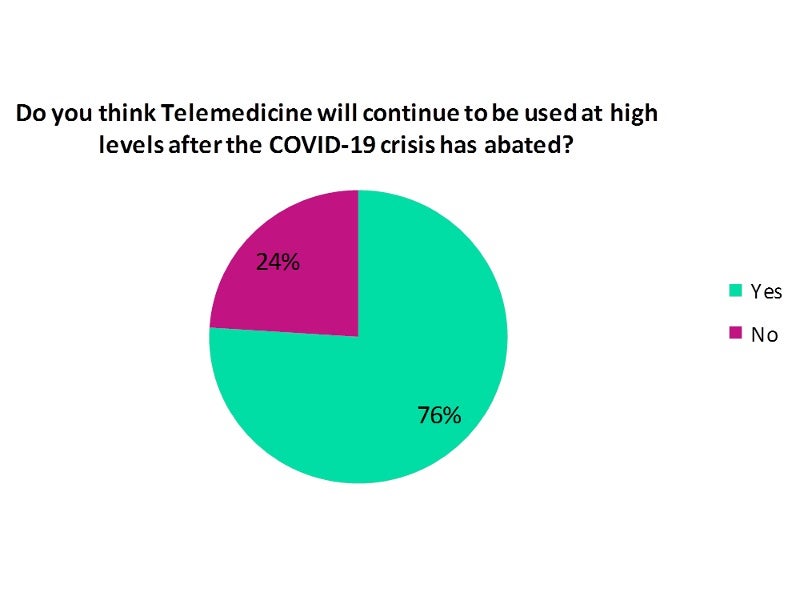 The analysis is based on 1,492 responses received between 30 April and 19 May.
Use of telemedicine post the Covid-19 crisis
Adoption of technology in healthcare particularly telemedicine has historically remained low due to issues surrounding patient privacy and reimbursement. During the Covid-19 pandemic, however, telemedicine witnessed a surge in usage.
Most governments across the world have lifted restrictions or limitations imposed on telemedicine to provide home-staying patients with remote access to healthcare. The US, for example, allowed Medicare payments for virtual visits, while India's Ministry of Health issued new guidelines permitting registered medical practitioners to use telemedicine services.
Healthcare providers in the US, such as Novant Health, NYU Langone, and USC San Diego Health, have witnessed a surge in telehealth consultations, according to a research conducted by Healthcare Growth Partners (HGP), an investment banking advisory firm focussed on health IT market.
HGP forecasts that telemedicine will continue to witness strong growth and will attract more investments.
Healthcare systems that invested in telemedicine services are expected to flourish post COVID-19. Those who have not will need to address operational gaps including training physicians and choosing the right technology platform, says Neil Patel, president of Healthbox, a healthcare advisory services firm.
Focus on customer support, training and follow-ups, patient data confidentiality, and protection of doctor's rights are, however, believed to be essential for the long-term success of telemedicine.
Lack of patient awareness a major challenge to adopting telemedicine
Lack of patient awareness is, however, one of the biggest challenges facing the adoption of telemedicine, according to a survey conducted by GlobalData. Awareness among people, however, is increasing as government and healthcare providers are disseminating information and encouraging them to use telehealth services.